2017 National Red Ribbon Week Project Spotlights: October 23 - 31
The National Family Partnership, a nonprofit organization founded by parents taking a leadership role in drug prevention, started the Red Ribbon Campaign™ Exit Disclaimer: You Are Leaving www.ihs.gov in 1985 to promote awareness, provide advocacy, and provide resources to prevent drug use. Several IHS funded projects participated in 2017 Red Ribbon week by holding community and youth-focused activities.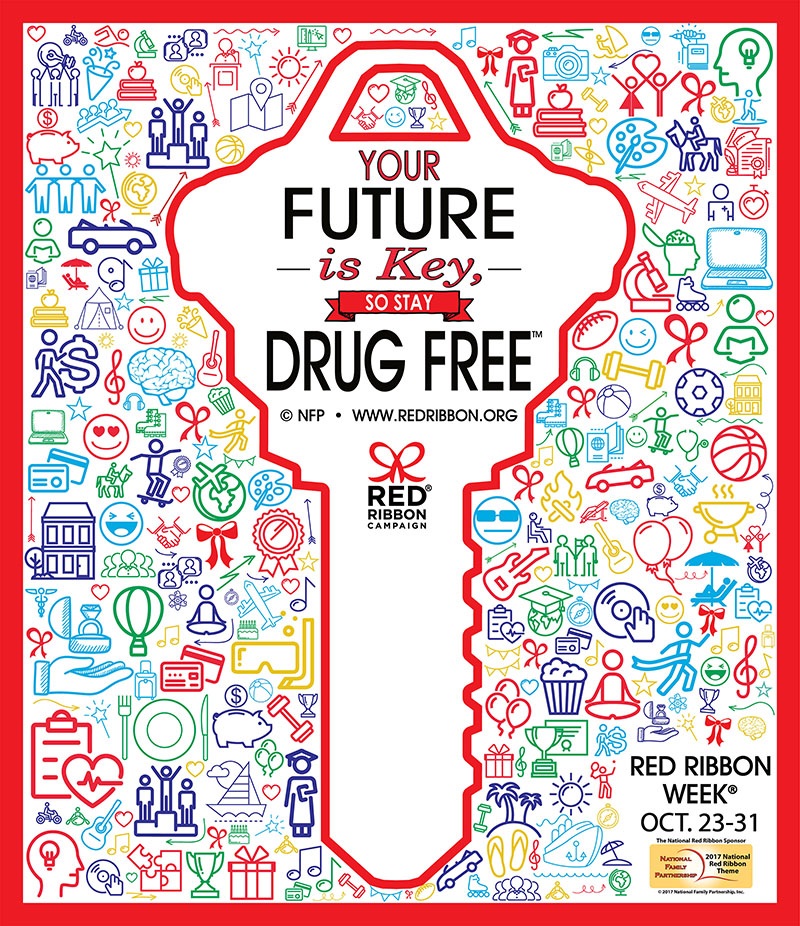 Alaska Area
Kodiak Area Native Association (DVPI)
Purpose Area 1
Community Dinners/Game Nights/School Activities - Throughout October, the Kodiak Area Native Association (KANA) is hosting a series of community dinners and game nights. KANA will collaborate with the local school district and private schools to provide in-school events and activities during Red Ribbon Week to raise community awareness about the week's purpose, promote healthy choices, emphasize the role of family support, and educate the public about the realities of substance abuse. School activities include classroom presentations, talks with staff/faculty, and presentations to school administrators about ways to help support and encourage students to make positive choices.
Contact: Matthew J Kozak
Pribilof Islands Aleut Community of St. Paul Island (MSPI GEN-I)
Purpose Area 4 - Generation Indigenous
Drug-Free Human Chain/Brick Wall/School Activities - The project will host the Drug Free Human Chain demonstration, where community members will join a formation to spell out "Drug Free." Community members will be "Building a Healthier Community Together" through a paper brick wall consisting of signatures in support of building a healthier community. Additional school activities will include daily themes for students to show their support, a coloring and poster competition, educational relay games and open discussions to raise awareness.
Contact: Aubrey Wegeleben
Albuquerque Area
Aleutian Pribilof Island Association, Inc. (DVPI)
Purpose Area 1
The Pueblo of Acoma School Activities - The St. George Island School will kick off Red Ribbon Week activities with wearing red to school for "Red Alert-Don't Do Drugs" day and creating a "We Make a Stand" poster on Monday. Tuesday, students can wear favorite team apparel for "Team Up Against Drugs" day will make individual drug- free message posters to be entered into a contest. Wednesday, "Follow Your Dreams" day, is wear pajamas and watch the "It's a Fact" video. Thursday is backward clothing for "Turn Your Back on Drugs" day with drug prevention games and an open Q and A session. Friday closes with wear a silly hat or hair for "Use Your Head, Don't Do Drugs" day. The competition posters will be judged and a community tea party held at the school. Parents are invited to attend any of the school events and all kids will be given Red Ribbon Week bags.
Contact: April Arbuckle
Great Plains Area
Elbowoods Memorial Health Center (Zero Suicide)
Purpose Area 4 - Generation Indigenous
Behavioral Health (Zero Suicide) - In recognition of Red Ribbon Week, Elbowoods Behavioral Health staff will attend a "Sacred Fire" planning meeting to provide support for an event to promote sobriety and wellness. Behavioral Health staff will facilitate two recovery groups during this event. Alcohol and substance abuse psychoeducation will be provided to the surrounding elementary, middle and high schools to raise awareness. Community awareness will be promoted through psychoeducational materials, displays, departmental resource materials, and participating in a local "Back to School Bash" event.
Contact: Cianna Rabbithead
Oklahoma City Area
Muscogee Creek Nation (MSPI)
Purpose Area 3
Presentations/Social Marketing Campaigns - Muscogee (Creek) Nation Behavioral Health MSPI program is supporting Red Ribbon Week activities throughout the service area, focusing on rural schools. Substance abuse prevention presentations are being provided at Holdenville, Okemah, Mason, and Eufaula Public Schools, as well as Checotah, Wetumka, and Crossroads (Weleetka, Moss, Hanna, Dustin-Graham Cooperative) Alternative Education Schools and the Sapulpa Salvation Army After School Program. Each school has planned activities throughout the week. The MSPI program is providing red ribbons and materials for the students to create drug free messages to be displayed at the schools and sporting events. A social marketing campaign is being implemented with the tribal media department and print ads are in the tribal newspaper throughout October. The Red Ribbon Week efforts will reach approximately 3500 youth.
Contact: Leslie Crow
Wyandotte Nation (MSPI)
Purpose Area 4 - Generation Indigenous
Empowering Our Youth - At the local elementary school, the MSPI program will host spirit week, October 23-27th. Each day will have a different dress up theme. A poster contest, boosting the theme of Red Ribbon Week, "Your Future Is Key, So Stay Drug Free" will be added, with the winning poster to be displayed on a community billboard. A classroom door decoration contest will represent the Red Ribbon Week theme, and promotional items will be given with the Red Ribbon Week logo. All the elementary school students who pledge to be drug free will receive a red drug-free tag that supports the school's current program, Fitness Finders. The fifth grade students will participate in a presentation called "Don't Meth With Me" through a partnership with the Miami Rotary Club.
Contacts: Kelly Friend and Holly Hilliard
Portland Area
Cow Creek Band of Umpqua Tribe of Indians (MSPI)
Purpose Area 4 - Generation Indigenous
Radio/Social Media Spotlights/National Messaging - Cow Creek Health and Wellness Clinic is hosting a variety of activities designed to raise community awareness regarding substance abuse and the threat it poses to tribal youth. Public Service Announcements (PSAs) for local radio stations are in production to highlight the need for parents to take an active role in prevention and strategies to keep children drug free. Red Ribbon messaging will be shared through the Tribal Facebook page and the tribal newsletter to reach over 1200 tribal homes directly and another 320 tribal members digitally.
In support of the Red Ribbon Week theme, "Your Future is Key, So Stay Drug Free," the Cow Creek Health and Wellness Clinic is providing clinic, Tribal Government, and Human Services staff with attractive, easy to wear ribbons attached to keys/safety pins, or "red ribbon keys" to spark conversation outside the work place about the Red Ribbon Week campaign.
Contact: Julie Hargraves
Tucson Area Area
Pascua Yaqui Tribe (MSPI)
Purpose Area 3
"Together We Heal - Nau Te Inetene" Community walk on October 26, 2017 - The Pascua Yaqui Tribe MSPI Program and Pascua Yaqui Tribe's Guadalupe Prevention Program will host a community walk to raise awareness for the prevention of substance abuse and domestic violence.
Contact: Bridget Valenzuela