Elder Care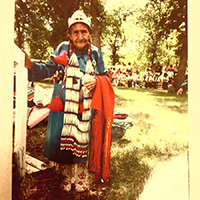 Rosebud Elder Clinic was established in 2001 and serves as a liaison to the National Indian Health Service Eldercare Initiative. The purpose of the clinic was to improve access to care for elder patients. The clinic allowed for specialized comprehensive assessments for the management of chronic health issues. The continuity of care for elders has since been improved in partnership with other medical and community resources.
Following are some of the services we offer in Elder Clinic:
Medication reviews to prevent errors.
Dementia, mental status and competency evaluations coordinated with behavioral health and Tribal entities;
Advance directives, advance-care planning and coordination with Long-Term Care, Hospice and Social Services;
Multi-disciplinary palliative care consultations that include patients and family;
Falls prevention, physical inactivity and deconditioning in partnership with physical therapy and exercise programs;
Malnutrition, dietary interventions and education in partnership with our Nutrition and Dental departments;
Durable medical equipment referrals and procurement;
Home safety checks and community outreach in partnership with our Public Health Nursing Department and the Tribal CHR program;
Elder protection screening for elder abuse and exploitation, working closely with social services in the hospital, Tribal and State of South Dakota Elder Programs and law enforcement;
We have always had a fluent Lakota speaker available in our Elder Clinic.
This clinic was named by Ollie Napesni, an esteemed Lakota educator and quilter. She called it, Tanka Ke Zani Oti, a place for health and healing for the elderly.
Staff of the Elder clinic are trained in geriatric care and culturally appropriate treatment of Lakota Elders.