Sexual Assault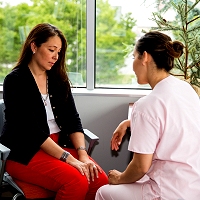 Sexual assault is a significant problem affecting American Indians and Alaska Natives. Sexual assault refers to sexual activity when permission, or consent, is not freely given. This can occur in situations when a person is unable to give consent, for example when a person is under the influence of drugs or alcohol. Anyone can experience sexual violence, but most victims are female. The person responsible for the violence is typically male and is usually someone known to the victim. The person can be, but is not limited to, a friend, coworker, neighbor, or family member.
IHS addresses public health problems like sexual violence by:
Providing direct health care and behavioral health services for patients;
Providing funding for demonstration projects;
Developing, implementing, and monitoring health policy; and
Training providers in the Indian health system to respond to sexual violence.
How to Help a Victim
You may be the first person that a victim confides in after a sexual assault. Often times, victims blame themselves for the assault or are afraid they won't be believed. It is important to let the person know they are not alone on their journey to recovery and help is available whether the assault was recent or in the past.
If someone you know tells you that they have been sexually assaulted consider one of the following responses:
I believe you.
I am afraid for you.
You are not alone.
It is not your fault.
You do not deserve to be abused.
Help is available.
Some people may not be ready to press charges against their perpetrator. Reporting the assault should be the victim's choice.
If the person is in immediate danger, call 911 or your local police department. For more help, call the Rape, Abuse, and Incest National Network at 1-800-656-HOPE (4673).
Sexual Assault Examinations
It is important to know that a sexual assault exam is available to get checked for injuries, and if the person chooses, to have evidence collected. A person does not have to report to law enforcement to have a sexual assault exam or to have evidence collected. Examinations are provided by local hospitals or sexual assault examiner programsExit Disclaimer: You Are Leaving www.ihs.gov .
During the exam, medication is available to prevent sexually transmitted diseases (STDs) or pregnancy (if taken within 72 hours of the sexual assault).
A person should not shower before the exam. However, an exam can still be completed if a person has showered. The person should bring the same clothing that was worn during or immediately after the assault to the exam.