About Us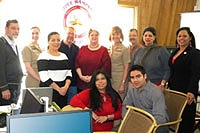 The leadership and staff of the Nashville Area are dedicated to protecting and elevating the health status of the American Indian people we serve, by consistently providing an efficient collaborative system of medically appropriate, preventive, therapeutic, consultative and educational activities. This system, which advocates and enhances self-determination, is tailored to the unique cultures and diverse needs of our customers, and is delivered through qualified health care administrators and service providers.
In 1970, tribal leaders from the Eastern Band of Cherokee Indians, Mississippi Band of Choctaw Indians, Seminole Tribe of Florida and the Miccosukee Tribe of Florida advocated for a higher level of service and Indian Health Service (IHS) presence in the southeastern United States, in closer proximity to their respective reservations and tribal members. The answer to this request came with the establishment of a Program Office, located in Sarasota, Florida. The new Program Office provided the tribes in the southeast region with staff solely dedicated to their needs and services. As more tribes across the south and into the northeast began to gain federal recognition, the IHS recognized the need for an increase in staff and service levels. In 1975, the Program Office was relocated to Nashville, Tennessee and officially established as the Nashville Area Office.
Today, the Nashville Area Indian Health Service serves 36 tribes or nations with fourteen Title I (contracted) Tribally Administered programs, nine Title V (compacted) Tribally Administered programs, three IHS Federal Direct Care Service Unit programs, three Purchased/Referred Care operations, three Urban Indian Health programs, and one Youth Regional Treatment Center. These tribes and nations are dispersed across fifteen states, although the Nashville Area also assists patients in a total of twenty-four states in the eastern, southeastern and mid-United States.
Due to our geographic diversity, the Nashville Area health programs rely on a combination of long-distance communication and on-site meetings, conferences, site visits, trainings and tribal consultation sessions to share information with one another.
Area Tribes, Nations & Partners
Description of Indian Health Service Budget Categories