Information for Patients
Eligibility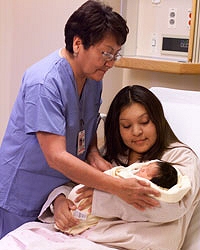 The most common standard applied for eligibility for health services from the Indian Health Service (IHS) is that the individual is an enrolled member of a Federally recognized Tribe. The Indian Health Service is funded each year through appropriations by the U.S. Congress. The Indian Health Service is not an entitlement program, such as Medicare or Medicaid. The Indian Health Service is not an insurance program. The Indian Health Service is not an established benefits package. Two types of services are available: Direct Health Services (DHS) and Purchased/Referred Care (PRC). Direct Health Services are health care services provided at an IHS facility. Contract Health Services include services that the IHS is unable to provide in its own facilities. PRC are provided by non-IHS health care providers and facilities. PRC payments are authorized based on clearly defined guidelines and are subject to availability of funds. More information regarding eligibility requirements for the Indian Health Service can be found in the Indian Health Manual.
Frequently Asked Questions
For more information and answers to frequently asked questions (FAQ) regarding the Indian Health Service, please visit the IHS FAQ web page.
Youth Services
The Nashville Area Office of the IHS offers services for eligible youth through Unity Healing Center, a regional youth treatment facility located in Cherokee, North Carolina. For youths ages 13 up to 18 years old, the center is a long-term residential facility that focuses on the physical, mental, emotional and spiritual requirements of patients with a 12-Step recovery program tailored to Native American culture and needs.
United South & Eastern Tribes, Inc.
United South and Eastern Tribes, Inc. (USET) is a non-profit, inter-tribal organization that collectively represents its member tribes at the regional and national level. USET has grown to include twenty-five federally recognized tribes, operating through various workgroups and committees and providing a forum for the exchange of ideas and information amongst tribes, agencies and governments. For more information visit the USET Web site. Exit Disclaimer: You Are Leaving www.ihs.gov
Health Topics
General Health
Heart Disease
Mental Health & Substance Abuse
Smoking Cessation
Suicide