MAINTENANCE
www.ihs.gov will be undergoing maitenance starting at 8:30 PM ET on Thursday, December 7, there might be intermittent outages between 8.30 PM - 11.30 PM ET. We apologize for any inconvenience.
2010 National Behavioral Health Conference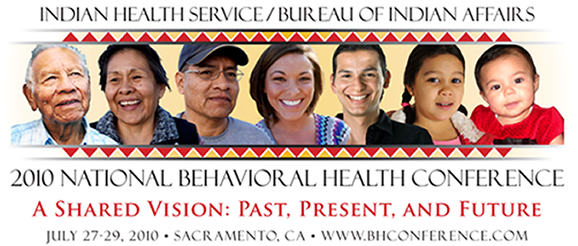 The Indian Health Service and Bureau of Indian Affairs have joined together this year to present the first joint 2010 IHS/BIA National Behavioral Health Conference. This event demonstrates the commitment and renewed energy of both agencies to work in partnership to actively address behavioral health disparities in Indian Country.
The 2010 IHS/BIA National Behavioral Health Conference will offer participants capacity-building opportunities by providing:
Expert knowledge sharing;
Information on behavioral health models through adult learning; and
Opportunities for professional collaboration and networking.
Important topics affecting Indian Country will be covered, highlighted in five distinct programmatic tracks.
Substance Abuse
Mental Health
Child, Family, and Community Wellness
General Interest Topics
Self-Care
Tribal leaders, doctors, nurses, behavioral health providers, substance abuse program providers, psychologists, social workers, therapists, counselors, social workers, traditional service providers, health program administrators, community health representatives, youth, elders, and other concerned community members are highly encouraged to attend.
Conference Highlights
No Registration fee
Self-care Roundtable sessions
Continuing education units (CEUs) and Continuing medical education (CME)
Nationally recognized speakers, enriching learning labs, and cutting edge research
Opportunities for networking, collaboration, and partnership
Exhibitors and vendors
Cultural activity and awards ceremony
VISIT THE CONFERENCE WEBSITE Exit Disclaimer: You Are Leaving www.ihs.gov
Join us for an informative and unique conference experience.
Questions for this event may be directed to Deborah Black.