The Indian Health Service continues to work closely with our tribal partners to coordinate a comprehensive public health response to COVID-19. Read the latest info.
October: Health Literacy Month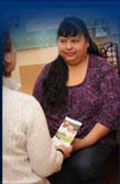 October is Health Literacy Month. Health literacy is defined as the degree to which individuals have the capacity to obtain, process, and understand basic information and services needed to make appropriate decisions about their health. To learn more about health literacy and to discover tools and resources that can be used to improve health literacy, please visit the Health Communications website.