The Indian Health Service continues to work closely with our tribal partners to coordinate a comprehensive public health response to COVID-19. Read the latest info.
Pharmacy Residencies and Rotations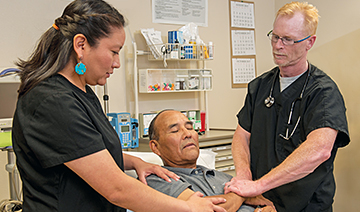 IHS Pharmacy Rotations (also called Clerkships) are non-paid rotations for academic credit for students in their last year of pharmacy school. Rotation/Clerkship agreements are in place with many Schools of Pharmacy. You can download a current list of rotation sites and contacts from the IHS Pharmacy website select IHS Rotations/Clerkships.
Interested students should contact their School of Pharmacy's Experiential Coordinator to be sure the school has an agreement with their desired residency/clerkship location. If an agreement is not in place or to try another location, have the Experiential Coordinator contact the IHS Pharmacy Program. Students or schools must pay for travel and housing expenses.
IHS also offers paid residencies at 22 hospitals and outpatient facilities throughout the United States. Visit the Pharmacy Resident Program page for more information. If you have additional questions, please contact the Pharmacy Residency Information Specialist.
Nursing Residencies
The IHS Nurse Residency Program (IHS-NRP) is a work-study program designed to strengthen the Indian health nursing workforce by increasing nursing knowledge and leadership development. Nurses must agree to practice within an IHS, Tribal or Urban Indian Program and be licensed as:
Registered Nurses or Advanced Practice Nurses enrolled or accepted into Doctor of Nursing Practice (DNP) in the following academic tracks: Leadership, Mental Health, Midwifery or Family Practice.
Registered Nurses enrolled or accepted into a BSN program.
Licensed Vocational/Practical Nurses (LVN/LPN) enrolled or accepted into an Associate Degree in Nursing (ADN) program.
For more information, please contact the Office of Clinical and Preventive Services, Division of Nursing at (301) 443-1840.
Medical Student Rotations
Some Indian Health Service (IHS) facilities offer opportunities for medical student rotations in rural medicine. If you are interested in a medical student rotation opportunity in the Navajo Area click here. If you are interested in a medical student rotation at another location within the IHS,please contact an IHS Recruiter for more information.
Medical Residents
Medical students interested in completing a residency at an IHS facility should contact an IHS Recruiter for more information.
Optometry Resident and Student Opportunities
IHS offers one-year, post-graduate Primary Care Residencies in Optometry through Marshall B. Ketchum University, Southern California College of Optometry (SCCO). Sites include US Department of Veterans Affairs (VA) health centers, IHS facilities and the SCCO campus. All positions are filled through the Optometry Residency Matching System (ORMS). Specializations include Cornea and Contact Lenses, Low-Vision Rehabilitation, Ocular Disease, Primary Care and Pediatric Optometry/Vision Therapy. For more information about a specific optometry residency program, go to the Residency Program link on the SCCO site or contact the Residency Program Coordinator.
Many IHS optometry programs have affiliations with the various schools and colleges of optometry for unpaid externships lasting two to three months for fourth-year students. For more information, contact the Optometry Student Coordinator.
Dentistry Residencies
The IHS Office of Clinical and Preventive Services Division of Oral Health (DOH) supports six or seven dental residents simultaneously, selected from current IHS dentists who seek to pursue long-term training in a dental specialty, such as pediatric dentistry. Please contact Timothy Lozon, DDS, Director, DOH, for more information.