Wellpinit Service Unit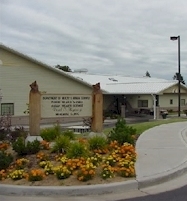 Address
David C. Wynecoop Memorial Clinic, aka Wellipinit Service Unit, Indian Health Service

6203 Agency Loop Road
P.O. Box 357
Wellpinit, WA 99040
Phone: 509-258-4517 ext. 4100
Hours of Operation
Monday, Tuesday, Thursday and Friday
8:00 AM - 4:30 PM
Thursday
12:30 AM - 4:30 PM
Who Should I Call?
General Information & employment opportunities: 509-258-4517 X 4166
Questions about appointments: 509-258-4517 X4100 or X 4102
Questions about Purchased/Referred Care (PRC): 509-258-4517 X 4114
Questions about prescriptions/medications: 509-258-4517 X 4192
Pharmacy Automated Refill Line: 509-258-4517 X 4134
Compliments or Complaints: 509-258-4517 X 4142
Administration Fax - 509-258-7152
Medical Records Fax: - 509-258-6757
After hour Nurse Advice Call Line - 1-866-470-2015
Leadership
Chief Executive Officer: Teressa Martinez, FNP-C, 509-258-4517
Clinical Director: Margaret Koepping, MN, ARNP, FNP-BC 509-258-4517 X 4154
The David C. Wynecoop Memorial Clinic (DCWMC) is dedicated to the memory of David C. Wynecoop, Sr. Mr. Wynecoop was a member of the Spokane Tribe of Indians and he served as Service Unit Director until 1985. Mr. Wynecoop had a very significant effect upon the health and welfare of the people of the Kalispel and Spokane Tribes.
The DCWMC consists of one ambulatory care health center at Wellpinit, Washington. The DCWMC primarily serves the ambulatory needs of the Spokane Tribe. The DCWMC is staffed with 30 employees including 1 Physician, 2 Family Nurse Practitioners, 1 Registered Nurse, 3 Medical Assistants, 1 Dentist, 2 Dental Assistants, 1 Medical Technologist, 2 Pharmacists, 1 Pharmacy Technician, 1 X-ray Technician, 1 Public Health Nurse and other support staff. Services include medical and dental, in house Pharmacy for patients of the DCWMC. DCWMC offers a number of specialty clinics. Our specialty clinics include Podiatry, Women's Health, Diabetes Care and expanding to others in the future. In FY 2016 approximately 24,000 outpatient visits were made to the DCWMC. The total active patients served at the DCWMC is near 2,800.
The DCWMC is located on the Spokane Indian Reservation in the northeast section of Washington State occupying the southern portion of Stevens County. Geographically, the northern border is the 48th latitude with the Spokane River the southern border and the Columbia River its western border. It is a mountainous region covered with timber and varies in elevation from 1,000 feet to 4,000 feet. On plateaus and valleys, farm land is relatively extensive while mountain areas are heavily timbered with frequent scattering of lakes, streams and ponds. The climate is moderate with an average rainfall of 15 inches. The DCWMC is 50 miles Northwest of Spokane, Washington, the hub of the industrial and business sector of the Inland Northwest. Spokane Hospitals and health specialists are used extensively for emergency hospitalization and specialty care.
The DCWMC was built in 1970 and in 2001 the Indian Health Service and the Spokane Tribe of Indians completed a collaborative construction project of a new ambulatory primary health care addition to the DCWMC. The clinic expansion more than doubled the available facility space.