Administrative Support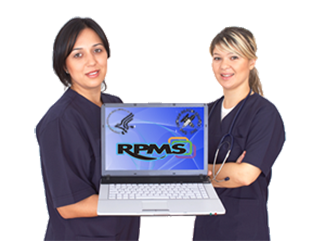 Data captured in clinical systems during patient visits is also available to RPMS's administrative software applications without duplicate entry. In addition to its use at individual facilities, the demographic, diagnostic, epidemiologic, and therapeutic data join data from other facilities nationwide to comprise the Indian Health National Data Base. It is used to satisfy several uniform reporting requirements such as HEDIS, ORYX, GPRA, and Healthy People 2000.
Tuesday
2:15 pm
The registration clerks in today's Diabetes, Urgent Care, and Family Practice Clinics are all using Patient Registration to access the medical record number, demographic, tribal membership, and insurance eligibility information about each patient. Meanwhile, a medical records clerk is using Patient Registration to access new-patient information captured earlier to establish a new medical record chart.
4:45 pm
The administration clerk has two requests before her. For the first, she uses Medical Staff Credentials to produce an updated report on the status of all medical staff credential files. Alerts are sent to providers whose licenses are due for renewal or who need to re-apply for privileges. For the second, she accesses Administrative Resource Management System (ARMS) and enters a staff member's request to attend a training session. After ARMS automatically computes the approved per diem and lodging rates for the training location, she enters the remaining travel information and electronically sends the request for approval.