The Indian Health Service continues to work closely with our tribal partners to coordinate a comprehensive public health response to COVID-19. Read the latest info.
Maternal and Child Health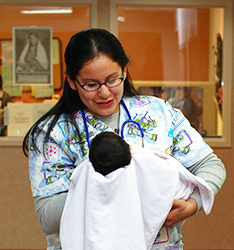 Maternal and Child health includes information on pregnancy and prenatal care; maternal and infant health (safe motherhood); preterm birth; effects of alcohol use during pregnancy (FASD); tobacco use during pregnancy; drug use during pregnancy; the effects on the mother's unborn child and the child's development; pregnancy complications; pregnancy-related deaths; postpartum depression; pregnancy –related deaths; infant mortality including Sudden Infant Death Syndrome (SIDS);and adverse childhood experiences (ace).
The following topics cover basic information on Maternal and Child Health: