Zuni Comprehensive Health Center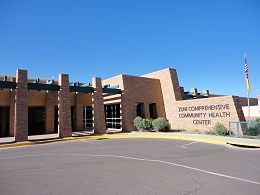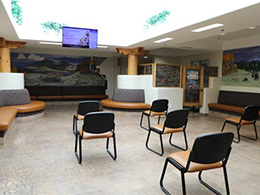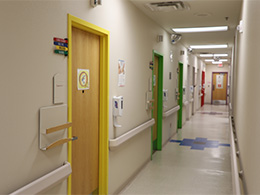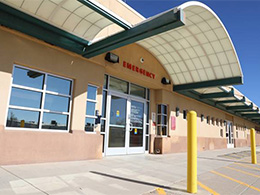 Address:
P.O. Box 467
Zuni, New Mexico 87327
Location:
Route 301 North 21 B. Avenue
Zuni, New Mexico 87327
Phone: 505-782-4431
Hours of Operation:
Emergency Room/Urgent Care and Inpatient Services open 24 hours, 7 days per week.
8:00am to 5:00pm Monday through Friday for Ambulatory Care and Support Programs, including Administration
Leadership:
CEO: Jean Othole
Phone: 505-782-7300
Clinical Director: Rebecca Ryan, MD
Director of Nursing: Mona Lateyice-Owaleon, RN/MSN
Administrative Officer: Vacant
Quality/Risk Manager: Cecelia Belone, MSW
Who should I call?
For Appointments:

Outpatient Clinic: 505-782-7434 or 7444
Dental: 505-782-7349
Behavioral Health: 505-782-7312
Optometry: 505-782-7485
Physical/Occupational Therapy: 505-782-7526
Podiatry: 505-782-7530
Women's Health: 505-782-7544
Diabetes: 505-782-7352
Patient Satisfaction/Patient Complaint: 505-782-7533
Questions about appointments:
Appointments are scheduled with a Provider Team. The teams are grouped by color. If you know your team color, please call the following number to schedule an appointment. You may also call 505-782-4431 and ask to be transferred to Health Records and you will be assisted accordingly.
Yellow Team: 505-782-7445
Orange Team: 505-782-7435
Red Team: 505-782-7446
Blue Team: 505-782-7447
Green Team: 505-782-7374
Services:
The Zuni Comprehensive Community Health Center offers/provides a wide variety of inpatient, outpatient and community health services.
General Medical Services:
Emergency Room Services (24 hours/7 days)
Inpatient General Medical Service (Adult/Pediatrics)
Obstetrics - Labor and Delivery
Outpatient Services
Optometry
Pharmacy
Laboratory Services
Radiology Services includes CT Scan and Mammography
Mental Health
Anti-Coagulation Clinic
Preventative Health Services:
Well Baby Clinic
Women's Health
Dental Health
Public Health Nursing
Diabetes (Screening & Certified Diabetes Education)
Immunizations
Podiatry
Physical Therapy
Nutrition (Diabetes/Community)
Integrated Medicine

Community Services:
Public Health Nursing
Palliative Care