The Indian Health Service continues to work closely with our tribal partners to coordinate a comprehensive public health response to COVID-19. Read the latest info.
Healthcare Facilities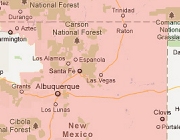 Albuquerque Area Map
The Albuquerque Area, like all IHS Areas, is broken out by service units which are administrative regions. Select one of the service units below to see the health facilities in it.
To ask area program specific questions, please go to our Area Office Staff page with e-mail links.