Albuquerque Indian Health Center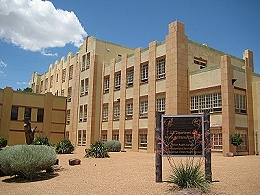 Address
801 Vassar Drive NE
Albuquerque NM 87106
Phone: 505-248-4000
FAX: 505-248-4088
Hours of Operation
General Medicine Clinic
Monday through Wednesday and Friday: 8:00am to 4:30pm
Wednesday: 8:00am to 8:00pm
Thursdays: 12:30pm to 4:30pm
Pharmacy
Monday through Wednesday and Friday: 8:00am to 5:00pm
Wednesday 8:00am to 8:00pm
Thursdays: 12:30pm to 5:00pm
Laboratory and Medical Imaging
Monday through Wednesday and Friday: 8:00am to 4:30pm
Thursdays: 12:30pm to 4:30pm
Optometry
Monday-Wednesday and Friday: 7:30am to 5:00pm
Thursdays: 12:30pm to 5:00pm
Who should I call?
General information: 505-248-4000
Red Team Appointments: 505-248-4053 or 7703
Green Team Appointments: 505-248-4014
Blue Team Appointments: 505-248-7810 or 4047
Patient Referred Care- blue team: 505-248-7734
Patient Referred Care- green team: 505-248-4016
Patient Referred Care- red team: 505-248-7638
Pharmacy: 505-248-4027
Compliments or complaints: 505-248-7816
Employment opportunities: 505-248-4739

Leadership
Chief Executive Officer - CDR John Rael, Phone: 505-248-4064
Administrative Officer – LCDR Tracy Sanchez, MBA, PA-C, 505-248-4064
Acting Clinical Director - Dr. Miranda Durham, Phone: 505-248-4064
About the facility
The Albuquerque Indian Health Center is accredited by Accreditation Association for Ambulatory Health Care, Inc. (AAAHC). We also participate in several initiatives including: Improving Patient Care (IPC), Model Diabetes Program, Patient-Centered Medical Home, and Integrated behavioral health
Services
Behavioral Health
Dental
Diabetes Care
Health Promotion/Disease Prevention
Laboratory
Nursing
Medical Imaging
Optometry
Pediatrics
Pharmacy
Podiatry
Prenatal Care
Primary Care
Public Health Nursing
Specialty Clinics - OB/GYN, Colposcopy, Rheumatology, Hepatitis C, Suboxone treatment, Anticoagulation, Tobacco cessation, HIV care
Weight Loss/Nutrition
Well Child Care
Women's Health
Community-Based Care
AIHC also provides care in the Zia Pueblo and the Santa Ana Pueblo via two Field Clinics.
For information regarding the Zia Field Clinic.
For information regarding the Santa Ana Field Clinic.