The Indian Health Service continues to work closely with our tribal partners to coordinate a comprehensive public health response to COVID-19. Read the latest info.
Santa Fe Service Unit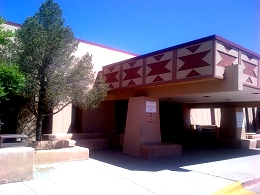 Address:
1700 Cerrillos Road
Santa Fe NM 87501
Phone: 505-946-9282
Hours of Operation:
Urgent Care services are available at the hospital on a same-day appointment basis, 8:00 am - 7:30 pm, 7 days a week.
Leadership:
CEO: Duane L. Marcellais
Phone: 505-946-9207 ext. 207
Clinical Director: Brett Smoker, MD, MPH
Phone: 505-946-9273
Department Phone Numbers:
Patient Advocate: 505-946-9464
Appointment Desk: 505-946-9282
Dental Clinic: 505-946-9485
Eye Clinic: 505-946-9219
Pharmacy Refill Line: 505-946-9376
Purchased/Referred Care (CHS): 505-946-9302
Other departments: 505-988-9821
Santa Clara Clinic: 505-753-9421
San Felipe Clinic: 505-867-2739
Cochiti Clinic: 505-465-2587
About the facility:
The Santa Fe Service Unit serves nine Pueblos: San Felipe, Cochiti, Santo Domingo, Tesuque, Pojoaque, Nambe, San Ildefonso, Santa Clara and Ohkay Owingee. The Service Unit is comprised of:
The hospital, clinics and urgent care in Santa Fe
Field Clinics in Santa Clara, Cochiti and San Felipe Pueblos
Services:
Urgent Care
Family Medicine
Internal Medicine
Pediatric Medicine
Psychiatric Medicine
Prenatal
Behavioral Health
Physical Therapy
Audiology
Dental
Optometry
Pharmacy
Nutrition
Laboratory
Public Health Nursing
X-Ray services