IHS Early Childhood Caries Collaborative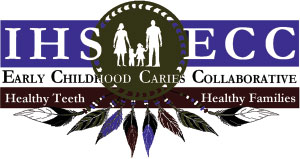 Early Childhood Caries (ECC, early childhood tooth decay) is an infectious disease that can start as soon as an infant's teeth erupt. ECC can progress rapidly and may have a lasting detrimental impact on a child's health and well-being. ECC is a serious health problem.1 ECC is defined as any caries experience in a child under 6 years of age.2 The 1999 Oral Health Survey of American Indian and Alaska Native Dental Patients found that 79% of children between the ages of 2-5 years had experienced dental caries, and 68% of this age group had untreated decay at the time of the dental examination.3
The Indian Health Service (IHS) Early Childhood Caries (ECC) Collaborative is a multi-faceted program designed to enhance knowledge about early childhood caries prevention and early intervention among not only dental providers, but also all healthcare providers and the community. The collaborative provides the entire healthcare team with the tools to begin a successful ECC program. Increasing access to oral health care and evidence-based prevention is a collaborative effort that must include the oral health care team, medical providers, Community Health Representatives, Head Start staff, and Women, Infant, and Children (WIC) program staff. The Collaborative also provides the framework to dental providers for ECC early intervention focusing on "caries stabilization".
References:
National Maternal and Child Oral Health Resource Center. Promoting Awareness, Preventing Pain: Facts on Early Childhood Caries (ECC). 2004. Available online at www.mchoralhealth.org

.
American Academy of Pediatric Dentistry. 2008. Full definition available online at www.aapd.org

.
Indian Health Service, U.S. Department of Health and Human Services, 2000. The 1999 Oral Health Survey of American Indian and Alaska Native Dental Patients: Findings, Regional Differences and National Comparisons, Rockville, MD: Indian Health Service.
ECC Collaborative Information
ECC Collaborative Final Report (PDF - 386KB)
Best Practices — Information about best practices in the prevention and early intervention of ECC.
BSS — The Basic Screening Survey (BSS) is a survey tool that is used by the majority of state dental programs.
Caries Stabilization — Caries stabilization involves using fluoride-releasing glass ionomer for interim therapeutic restorations (ITRs), resin and glass ionomer sealants, and topical fluoride.
ECC Packet — The Early Childhood Caries Packet is a folder that was mailed out to all IHS, Tribal, and Urban dental clinics.
ECC Program Spotlight — Highlights a local program that has increased access for 0-5 year olds.
Frequently Asked Questions (FAQs) — Answers to some of the questions that have been asked from dental staff and community partners.
Fluoride Varnish — Providing dental teams and our medical and community partners with information about fluoride varnish.
Resources — Links to PowerPoint presentations, online courses, dental support centers, and other helpful information to support the ECC Collaborative in your community.
ECC Program Spotlight
One of the original objectives of the Early Childhood Caries (ECC) Initiative was to increase access by 25 percent among 0 to 5 year-olds. The 2010 Basic Screening Survey Report showed that 20 percent of one year-olds and 40 percent of two year-olds had already experienced caries. Preliminary information from the ECC Virtual Learning Community Program indicates that while we are seeing promising increases in the rates of sealants, fluoride varnish and even Interim Therapeutic Restorations, increasing access to dental care among 0 to 2 year-olds continues to hover around 10 percent ECC organizers believe, " . . . access to dental care, especially in the hard-to-reach 0-2 year-old population, is the key to the long-range success of the ECC Collaborative. "We cannot prevent ECC if we aren't seeing 0-2 year olds, it's that simple!
This month's Spotlight highlights Oral Health Prescription Pads. Read more ..