IHS Opioids Data
The IHS Opioid Surveillance Dashboard (OSD) is a tool to be used to support stewardship initiatives at your site and the guidance documents can help streamline utilization of the dashboard.
IHS OSD Training Videos
Please contact the IHS OSD Super-User in your IHS Area or with Headquarters/HOPE Committee for assistance with any aspect of the IHS Opioid Surveillance Dashboard.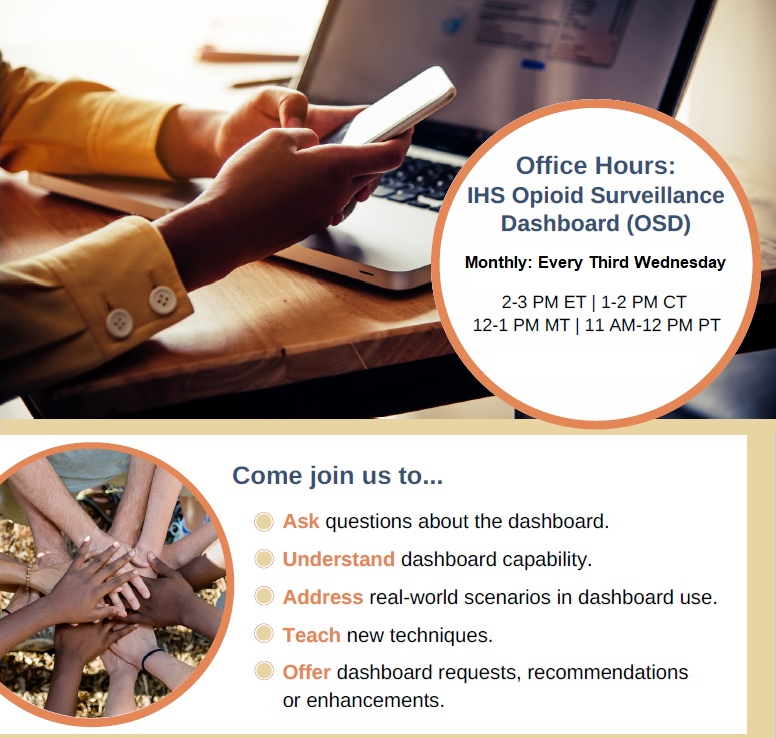 The Indian Health Service (IHS) National Committee on Heroin, Opioids, and Pain Efforts (HOPE Committee) is hosting open office hour sessions on the use of the IHS OSD.
Register Exit Disclaimer: You Are Leaving www.ihs.gov and join us to:
Ask questions about the dashboard.
Understand dashboard capability.
Address real-world scenarios in dashboard use.
Teach new techniques.
Offer dashboard requests, recommendations or enhancements.
IHS OSD Office Hours will be held each month on the third Wednesday from 1pm-2pm Central Time.
ODMAP is a free, real-time app that allows first responders to report overdoses. Public safety and public health officials use this information to:
Track overdoses across jurisdictions
Identify respond to overdose spikes
Target investigate drug dealers
Educate the public through public service announcements
Develop long term strategies to reduce overdoses
To register for ODMAPs please contact CDR David Bales for details instructions.
OSD Feedback
IHS superusers want the OSD dashboard to be as useful as possible. Feel free to offer feedback and let us know if you have any suggestions!