Opioid Stewardship in the Indian Health Service

The Indian Health Service (IHS) Opioid Strategy supports holistic, patient-centered care that incorporates the physical, emotional and spiritual needs of each individual patient. A strong patient-provider relationship that respects American Indian/Alaska Native (AI/AN) culture and tradition through shared-decision making is an important component in developing a treatment plan. IHS aims to reduce stigma while promoting culturally-sensitive, appropriate, and effective best practices related to opioid stewardship and substance use disorders, including evidence-based treatment, recovery support, primary prevention, and other harm reduction strategies.
---
OPIOID STEWARDSHIP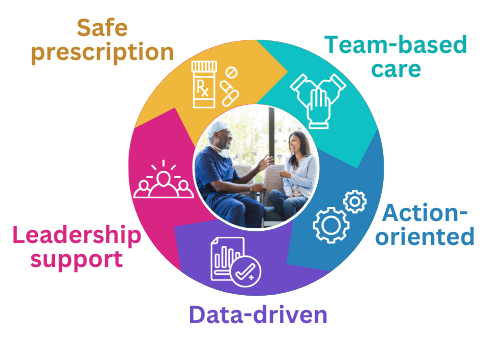 IHS is committed to improving the way opioids are prescribed to promote patient access to safe, long-term, chronic pain and substance use disorder treatments that reduce the risk of prescription misuse, abuse, overdose, and diversion. Opioid stewardship is a key part of IHS's overall strategy to improve outcomes for patients diagnosed with chronic pain syndrome or opioid use disorder.
In order to support opioid stewardship initiatives across Indian Country, IHS has released:
---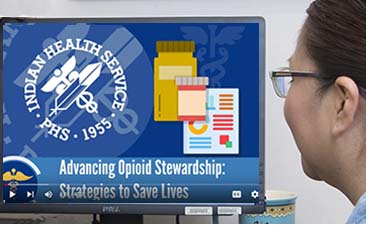 IHS has released a short video on the importance of opioid stewardship and strategies available to advance opioid stewardship activities across Indian Country.
Watch the Advancing Opioid Stewardship: Strategies to Save Lives Exit Disclaimer: You Are Leaving www.ihs.gov video.
IHS actively coordinates, collaborates, and participates in listening sessions, formal consultations, and community roundtables to ensure agency work is aligned with the President's National Drug Control Policy Priorities [PDF - 334 KB] Exit Disclaimer: You Are Leaving www.ihs.gov and relevant to tribal communities.
AI/AN populations face many socioeconomic challenges which often translate to a shortage of healthcare resources. In response, IHS is working to address Social Determinants of Health (SDoH) through a comprehensive, patient-centered, and team-based approach to patient care. The IHS supports health care practice that values health equity by striving to understand the local community and the impacts of SDoH, address implicit bias, empower the health care team and improve health literacy.
---
---
NOTICE
Appropriately prescribing opioid medications and managing chronic pain are critically important within the Indian Health Service. In May 2023, the IHS released the revised agency policy on Chronic Pain Management.
The information available on this site is intended for licensed health care professionals and adult patients. However, this site is not a substitute for clinical judgment and does not offer medical advice. Patients should consult their physicians or, in serious cases, contact emergency services. Health care professionals should confirm information available on this site with other sources.
Use of this site is at the user's risk, and information is provided on an "as is" basis. There is no warranty or guarantee for the information provided on this site.