Naloxone Training Toolkit
Naloxone Community Distribution Models
In collaboration with the Northwest Portland Area Indian Health Board, the IHS HOPE Committee launched a virtual, on-demand naloxone train-the-trainer course Exit Disclaimer: You Are Leaving www.ihs.gov that medical professionals, first responders, and community members may all use to become official naloxone trainers. The course discusses the rise in opioid-related deaths, how to identify an overdose, how to properly administer nasal and injectable naloxone, as well as sharing best practices related to harm reduction strategies.
Naloxone in Schools
There is a growing a concern about use of synthetic opioids, such as fentanyl, among our youth. Synthetic opioids cause overdose quickly and can be mixed with other substances, such as marijuana or methamphetamine, without the user's knowledge. This means that someone's first use can be fatal if synthetic opioids are present. Schools in many areas have taken action to expand access to overdose prevention efforts. The toolkit below provides an example of training plans and materials that may be used to support school implementation.
Naloxone Keeps the Circle Strong
Naloxone has become a standard first aid tool across the nation. Naloxone is a medication that reverses an overdose: it can be given at any time, to anyone. It can be administered even if an opioid overdose is only suspected, not confirmed. Studies have shown that community access to naloxone can decrease overdose death rates.(PubmedExit Disclaimer: You Are Leaving www.ihs.gov )
Naloxone Keeps the Circle Strong Poster/Flyer Exit Disclaimer: You Are Leaving www.ihs.gov [PDF - 593 KB]
Naloxone Training for Community Members [PPT - 8 MB]
Pharmacist Mentors for Co-prescribing Naloxone
Please contact a naloxone mentor in your IHS Area [PDF - 156 KB] for assistance with creating a naloxone co-prescribing initiative at your site. Mentors can provide an overview of the training materials, program best practices, and offer specific technical assistance.
Be a naloxone champion in your community: download and customize the following standing order and presentations, created to provide partners with resources for promoting naloxone awareness and training based on the educational needs of various local audiences.
National Clinical and Community-Based Services Conference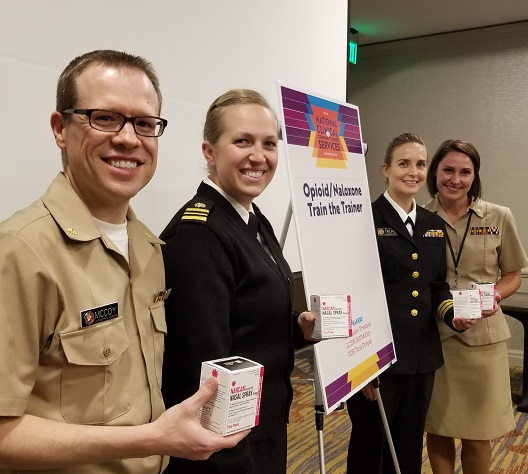 The 2019 National Clinical and Community-Based Services Conference focused on providing training for outstanding IHS, tribal, and urban staff, as well as partner stakeholders to address health disparities within tribal communities. The overall learning objectives included:
Using the train the trainer model to enhance attendee's skill sets to implement within clinical and community-based programs.
Advancing attendees' knowledge of their roles in community and clinical health, and how they contribute to today's Indian health system in delivering quality comprehensive clinical, preventive, and community-based programs.
Engaging and speaking with subject matter experts to address health priorities and issues in coordination of clinical and community-based services.
Transforming new knowledge and skills into action by drafting a collaborative Strategic Action Plan (SAP) to support and promote community wellness, policy development, and systems change.
Indian Health Service Response to the Opioid Crisis [PDF - 1.06 MB]