The Indian Health Service continues to work closely with our tribal partners to coordinate a comprehensive public health response to COVID-19. Read the latest info.
Naloxone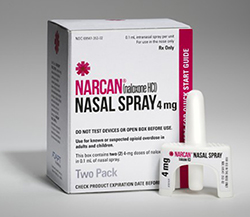 Naloxone is a prescription medication that can temporarily reverse opioid overdose and can save lives. Naloxone is an opioid antagonist that reverses the depression of the central nervous and respiratory systems after an overdose of prescription opioids or heroin. This medication can quickly be administered by several easy to use devices. Family members, caregivers, and emergency responders should be trained to administer naloxone to populations at risk for opioid overdose. Below is an overview of the available formulations:
Intranasal Naloxone: Narcan® Nasal Spray 4mg
This naloxone device is a prepackaged, ready-to-use, plastic unit that is given up the nose. The dose can be repeated every 2-3 minutes until initial response.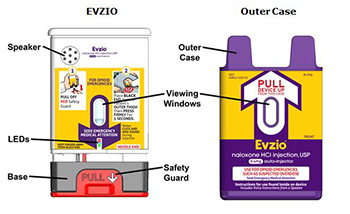 Naloxone Auto-Injector
Evzio® is a ready-to-use auto-injector that delivers the naloxone dose intramuscularly. For children under the age of 1 year the Evzio® should be administered subcutaneously. Key features of the device include voice instructions, ability to be administered through clothing, and automatic needle retraction following administration.
How to Use the VA Auto-Injector Naloxone Kit Exit Disclaimer: You Are Leaving www.ihs.gov Training Video