Naloxone
Naloxone Train-the-Trainer Course
In collaboration with the Northwest Portland Area Indian Health Board, the IHS HOPE Committee launched a virtual, on-demand naloxone train-the-trainer course Exit Disclaimer: You Are Leaving www.ihs.gov that medical professionals, first responders, and community members may all use to become official naloxone trainers. The course discusses the rise in opioid-related deaths, how to identify an overdose, how to properly administer nasal and injectable naloxone, as well as sharing best practices related to harm reduction strategies.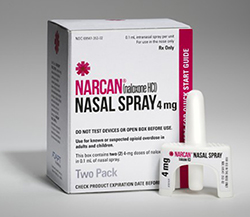 Naloxone is a prescription medication that can temporarily reverse opioid overdose and can save lives. Naloxone is an opioid antagonist that reverses the depression of the central nervous and respiratory systems after an overdose of prescription opioids or heroin. This medication can quickly be administered by several easy-to-use devices. Family members, caregivers, and emergency responders should be trained to administer naloxone to populations at risk for opioid overdose. Below is an overview of the available formulations:
Intranasal Naloxone: Narcan® Nasal Spray 4mg
This naloxone device is a prepackaged, ready-to-use, plastic unit that is given up the nose. The dose can be repeated every 2-3 minutes until initial response.
Naloxone Intramuscular Injection: Prefilled Syringe or Vial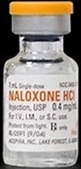 Naloxone Intramuscular (IM) injection may come in a prefilled syringe or a vial. 1ml of naloxone can be injected into a large muscle such as the upper arm or thigh at a 90-degree angle. The dose can be repeated every 2-3 minutes until initial response.