Supportive Services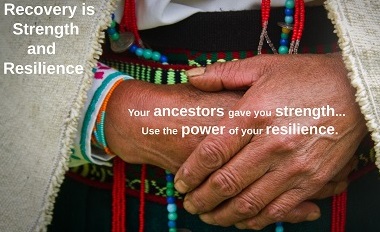 Recovery Card
Indian Health Service works to promote and provide holistic prevention, treatment, and recovery services for mental health and substance use disorders, as well as common co-occurring disease states. By recognizing that each person's pathway to recovery is unique, we value each individual's personal experiences. By honoring their journey to recovery, medical staff acknowledge the different experiences and needs of each patient and allow treatment plans that are tailored to align with a patient's culture, identity, background, and community.
To assist in sharing this focused message, IHS has created a recovery card [PDF - 999 KB] for IHS, tribal, and urban health facilities and programs. This customizable recovery card allows for the addition of specific, community-based resources to connect people to substance use treatment and recovery services.
To customize your community recovery card, follow the guidance below:
Download the recovery card
Open in Adobe
Click on the "Edit PDF" tool in the right pane
Add new text above "insert resources/contact info here"
Save your edited PDF: Name your file and click the "Save" button
Set printer settings to "print on both sides" and "flip on the short edge" on 5x7 card stock.
Print and share.
Types of Treatment
Holistic care refers to healing and wellness for the mind, body and spirit. It is important to consider cultural spiritual beliefs and offer resources within the community to meet these needs.
Identify tribal spiritual leaders
Identify community or tribal resources

Talking circles
Sweat lodges
Purification ceremonies
Contracting with local resources to come into Federal or Tribal Health care environment and provide holistic care
Providing Staff Education to improve and provide culturally sensitive care

Cultural orientation
Trauma informed care
12-Step Programs – Peer sharing facilitation therapy to guide and support engagement in recovery.
Recovery Programs - Peer sharing model promoting empowerment to exercise control over the treatment of and recovery from addiction.
Wrap-around services include a variety of social components, often provided by a social worker or case manager. It is important to have a point person that is able to connect a patient to services that are individualized. The services should be patient centered and may include:
Appointment Coordination
Screenings
Identifying and connecting patient to community resources; including housing and employment
Psychosocial treatment is a crucial component of Medication Assisted Treatment. The goal in treating opioid use disorder is to prevent relapse, through a comprehensive treatment program that includes pharmacotherapy along with psychosocial treatment. Integrated care is the collaboration between behavioral healthcare providers, medical providers, and chemical treatment programs. Integrated care should be in a shared location or co-located with primary care services. This serves to increase productivity, provide a consultative model, allow data sharing, and can help reduce the stigma surrounding mental health.
Psychosocial assessment
Supportive counseling
Family support
Community services
CIVIL RIGHTS and the OPIOID CRISIS
In response to the national opioid crisis, the U.S. Department of Health and Human Services (HHS) launched a public education campaign under the Office for Civil Rights (OCR) to help inform those seeking evidence-based opioid use disorder treatment and recovery services about their civil rights protections.
Please visit HHS's Special Topics Civil Rights and Opioids page Exit Disclaimer: You Are Leaving www.ihs.gov to learn more about how federal nondiscrimination laws apply to the treatment and recovery of those with opioid use disorder.
Resources
The Indian Health Service (IHS) Telebehavioral Health Center of Excellence (TBHCE) provides technical assistance, implementation, training, and evaluation support for remote health care, and serves isolated American Indian/Alaska Native (AI/AN) communities and areas with limited or no access to behavioral health services. TBHCE may present opportunities to offer consultation to primary care providers in a peer-to-peer consultation model.
Telebehavioral Health Center of Excellence – Indian Health Service
The Indian Health Service Alcohol and substance Abuse Program provides additional information surrounding substance abuse.
Indian Health Service Treatment Locator
Training
Screening, Brief Intervention and Referral to Treatment (SBIRT)
Provider training can assist practitioners with developing well-rounded skills. Examples of training include Suicide Assessment.