Audiology

Hours
Monday - Friday
8:00AM to 5:00PM
Contact Information
Phone: 602-263-1514
Fax: 602-263-1635
If you are experiencing a sudden loss of hearing (trauma or other), please call the PIMC Specialty Clinic for ENT services. During the call make sure to explicitly note that there has been a sudden loss of hearing. The Specialty Clinic can be reached by calling 602-263-1684.
Address & Location
PIMC Specialty Clinic
4212 North 16th Street
Phoenix AZ, 85016

Campus Map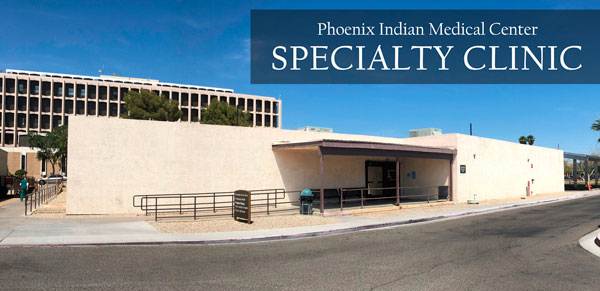 Larger View
Services
Audiologic evaluations for medical diagnosis and monitoring for all Native American patients across the lifespan, including newborns. Diagnostic and screening services include:
Comprehensive hearing tests including immittance audiometry, conventional puretone audiometry, word recognition testing, speech-in-noise testing
Visual reinforcement audiometry, conditioned play audiometry
Screenings for retrocochlear pathology
Otoacoustic Emissions testing
Auditory Brainstem Response (ABR) testing
Auditory Steady-State Response (ASSR) testing
Hearing monitoring services
Hearing tests for employer and/or academic requirements
Newborn hearing screenings and diagnostic evaluations
Tinnitus assessment
Cochlear implant candidacy evaluations
Bone conduction implant candidacy evaluations
Audiologic rehabilitation services and treatment for Phoenix Area eligible patients across the lifespan, including newborns. Audiologic treatment services include:
Hearing aid evaluations, fittings, and follow-up
Assistive technology evaluations, fittings and follow-up
Cochlear implant activation, programming, and follow-up
Bone conduction implant activation, programming, and follow-up
Hearing aid and assistive technology walk-in and mail-in repair and troubleshooting services
Tinnitus management
Assistive support for schools, including 504 plans and IEPs, as needed
Subjective and objective testing to evaluate treatment progress
Referrals
New patients must be referred by a primary care provider. Referrals from providers outside of Indian Health Services are accepted.
You do not need a referral if you have previously been seen by our Audiology department at Phoenix Indian Medical Center, or if you have been seen by one of our providers at a Phoenix Area Indian Health Service healthcare facility. Please call our clinic should you have questions regarding referrals.
Eligibility For Services
All Native Americans are eligible for diagnostic and screening services. Not all patients are eligible for treatment services and supplies, including hearing aids and hearing aid batteries. Please contact our clinic should you have questions regarding eligibility for treatment services.
We are only able to service hearing aids that were received through the Phoenix Area Hearing Improvement Program.
Audiologic testing can be conducted at any age. Specialized techniques to obtain hearing status can be used for children, persons with special needs, and those with cognitive disorders or disabilities.