Dermatology

Dermatology services are available by referral only. You will need an initial referral from your Primary Care Physician/Provider or the PIMC Urgent Care/Emergency Room prior to making an appointment.
Whether you have a simple rash or a chronic skin disease, our board-certified dermatologist offers comprehensive medical care for your skin, hair and nail concerns. From removing skin cancers to performing acne-prevention treatments, our range of medical therapies and surgical treatments benefit adults and children.
Hours
Monday - Thursday
8:00AM to 4:30PM
Contact Information
Phone: 602-263-1684
Fax: 602-263-1635
Address & Location
PIMC Specialty Clinic
4212 North 16th Street
Phoenix AZ, 85016
Campus Map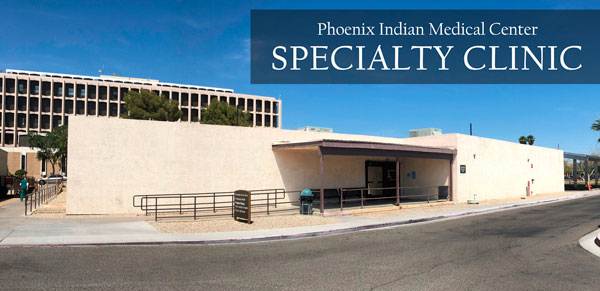 Larger View
Patient Services
Among the more common conditions seen at PIMC, they include but are not limited to:
Acne (including the use of isotretinoin or "Accutane")
Birthmarks
Eczema
Dermatitis and other skin rashes
Folliculitis
Psoriasis
Lichen planus
Hives
Warts
Alopecia
Melasma
Vitiligo
Hidradenitis suppuritiva
Atypical moles
Precancerous lesions
Skin cancer, including melanoma and non-melanoma
Skin lymphomas
Rheumatology-related skin problems such as lupus
Other less common skin issues
We do not provide cosmetic or aesthetic consultation and services, including laser treatments. Additionally, we do not perform allergy testing. Individuals who are interested in those types of procedures should view the American Academy of Dermatology website (www.aad.org) to find dermatologists who are able to provide such services.