Sanitation Facilities Construction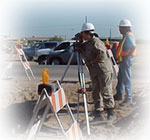 Several diseases are readily transmitted by contaminated water. Among those of greatest importance are infectious hepatitis, Shigella, Giardia, and other dysenteries. In the first 30 years of the IHS Sanitation Facilities Construction (SFC) Program, the gastrointestinal disease death rate for American Indians and Alaska Natives decreased 86 percent. These dramatic results came about through the efforts of tribal leaders, tribal members and SFC engineers to improve sanitation facilities for Indian homes and communities. The SFC works with the Phoenix Area tribes to implement the program as authorized by P.L. 86-121.
Since enactment of P.L.86-121, the SFC has completed over 650 projects, and over 300 projects are underway or pending construction.
Today, the SFC continually strives to assist the tribes in the construction of projects that include financial assistance from tribes as well as other federal agencies, because the needs far exceed the resources available from IHS.
Many SFC projects involve the hiring of local skilled and unskilled labor to construct community sanitation facilities.
To insure the continued safe operation of tribal sanitation facilities, SFC provides O&M training for tribal public works employees.
SFC engineers help tribes with the construction of sanitation facilities by preparing plans, finding contractors and assisting in project inspections.
Services Provided
Water, Sewer, & Solid Waste Construction Projects
Project Planning & Design
Provide IHS funding for facilities
Develop multi-agency funded projects & provide interagency coordination
Operation & Maintenance training for tribal public works staff
Assist tribes with sanitation facilities emergencies
Maintain an inventory of sanitation deficiencies in Indian communities
Engineers
Education: B.S. Degree in Engineering from an ABET accredited school
Credentials: Engineer in Training (EIT) or Licensed Professional Engineers (PE) and those pursuing professional registration
Specialties: Civil, Mechanical, Electrical, and Environmental Engineers
Contact Information