Self-Governance Tribes
The following Tribes and authorized Tribal Organizations currently participate in the IHS Tribal Self-Governance Program. They are listed alphabetically and the parenthesis indicate the fiscal year they entered the IHS TSGP.

Denotes the first 14 Tribes to participate in the TSGP with the IHS in 1994.
As of February 27, 2023, the IHS has entered into 112 Compacts and 139 Funding Agreements with Self-Governance tribes and tribal organizations across all 12 IHS Areas.
Alaska Area (26)
Aleutian Pribilof Islands Association (1995)
Bristol Bay Area Health Corporation (1995)
Chugachmiut (1995)
Copper River Native Association (1995)
Kodiak Area Native Association (1995)
Maniilaq Association (1995)
Native Village of Eklutna (1995)
Norton Sound Health Corporation (1995)
Seldovia Village Tribe (1995)
Southcentral Foundation (1995)
Southeast Alaska Regional Health Consortium (1995)
Tanana Chiefs Conference (1995)
Yukon-Kuskowim Health Corporation (1995)
Eastern Aleutian Tribes (1997)
Metlakatla Indian Community (1997)
Arctic Slope Native Association (1998)
Ketchikan Indian Corporation (1998)
Alaska Native Tribal Health Consortium (1999)
Council of Athabascan Tribal Governments (2000)
Mount Sanford Tribal Consortium (2000)
Yakutat Tlingit Tribe (2003)
Kenaitze Indian Tribe (2006)
Knik Tribal Council (2009)
Chickaloon Native Village (2011)
Native Village of Eyak (2011)
Tanana Tribal Council (2023)
Albuquerque Area (4)
Pueblo of Sandia (2010)
Taos Pueblo (2010)
Pueblo of Jemez (2011)
Ysleta del Sur Pueblo (2023)
Bemidji Area (14)
Grand Traverse Band of Ottawa and Chippewa Indians of Michigan (1994)


Mille Lacs Band of Ojibwe Indians (1994)


Fond du Lac Band of Lake Superior Chippewa (1995)
Sault Ste. Marie Tribe of Chippewa Indians (1995)
Oneida Nation of Wisconsin (1997)
Bois Forte Band of Chippewa Indians (1999)
Keweenaw Bay Indian Community (2002)
Shakopee Mdewakanton Sioux Community (2004)
Forest County Potawatomi Community (2005)
Little River Band of Ottawa Indians (2009)
Stockbridge-Munsee Community (2011)
Ho-Chunk Nation (2017)
Match-E-Be-Nash-She-Wish Band of Pottawatomi Indians of Michigan (Gun Lake Tribe) (2018)
Nottawaseppi Huron Band of the Potawatomi (2018)
Billings Area (3)
Confederated Salish and Kootenai Tribes of the Flathead Nation (1993)


Chippewa Cree Tribe of the Rocky Boy's Reservation (1995)
Northern Arapaho Tribe (2023)
California Area (17)
Hoopa Valley Tribe (1994)


Redding Rancheria Tribe (1997)
Karuk Tribe of California (1998)
Northern Valley Indian Health, Inc. (2004)
Riverside San-Bernardino County Indian Health, Inc. (2005)
Consolidated Tribal Health Project, Inc. (2006)
Indian Health Council, Inc. (2006)
Susanville Indian Rancheria (2007)
Feather River Tribal Health, Inc. (2011)
Chapa-De Indian Health Program, Inc. (2013)
Santa Ynez Band of Chumash Mission Indians – Santa Ynez Tribal Health Clinic (2015)
Southern Indian Health Council, Inc. (2015)
Lake County Tribal Health Consortium, Inc. (2018)
Pinoleville Pomo Nation (2018)
Paskenta Band of Nomlaki Indians – Rolling Hills Clinic (2019)
Round Valley Indian Tribes – Round Valley Indian Health Center, Inc. (2020)
Pit River Tribe – Pit River Health Service, Inc. (2022)
Great Plains Area (2)
Spirit Lake Tribe (2016)
Winnebago Tribe of Nebraska (2018)

Nashville Area (10)
Mississippi Band of Choctaw Indians (1995)
Penobscot Indian Nation (1995)
Chitimacha Tribe of Louisiana (1998)
Poarch Band of Creek Indians (1999)
Mohegan Tribe of Indians of Connecticut (2001)
Seminole Tribe of Florida (2001)
Wampanoag Tribe of Gay Head (Aquinnah) (2001)
Eastern Band of Cherokee Indians (2002)
St. Regis Mohawk Tribe (2003)
Mashantucket Pequot Tribal Nation (2023)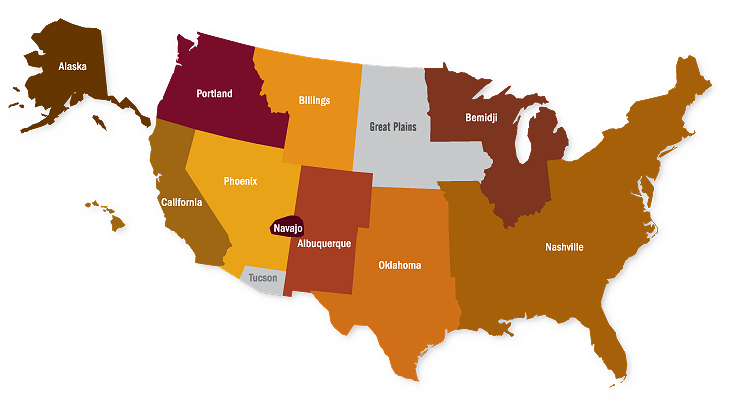 Navajo Area (3)
Tuba City Regional Health Care Corporation (2011)
Utah Navaho Health System, Inc. (2011)
Winslow Indian Health Care Center, Inc. (2011)
Oklahoma City Area (20)
Cherokee Nation (1994)


Sac and Fox Nation (1994)


Absentee Shawnee Tribe of Oklahoma (1994)


Chickasaw Nation (1995)
Choctaw Nation (1995)
Kaw Nation (1995)
Wyandotte Nation (1995)
Kickapoo Tribe of Oklahoma (1997)
Citizen Potawatomi Nation (1998)
Modoc Tribe of Oklahoma (2000)
Ponca Tribe of Oklahoma (2000)
Northeastern Tribal Health System (2002)
Muscogee (Creek) Nation (2003)
Prairie Band Potawatomi Nation (2004)
Osage Nation (2016)
Quapaw Tribe of Oklahoma (2017)
Seminole Nation of Oklahoma (2017)
Iowa Tribe of Kansas and Nebraska (2019)
Pawnee Nation of Oklahoma (2022)
Wichita & Affiliated Tribes (2022)
Phoenix Area (12)
Duckwater Shoshone Tribe (1994)


Ely Shoshone Tribe (1994)


Duck Valley Shoshone-Paiute Tribes (1995)
Las Vegas Paiute Tribe (2001)
Yerington Paiute Tribe of Nevada (2001)
Gila River Indian Community (2003)
Washoe Tribe of Nevada and California (2003)
Reno-Sparks Indian Colony (2014)
Fort McDermitt Paiute and Shoshone Tribe (2017)
Salt River Pima-Maricopa Indian Community (2017)
Ak-Chin Indian Community (2019)
Paiute Indian Tribe of Utah (2022)
Portland Area (26)
Confederated Tribes of the Siletz Indians of Oregon (1994)


Jamestown S'Klallam Indian Tribe (1994)


Lummi Nation (1994)


Makah Indian Tribe (1994)


Port Gamble Band of S'Klallam Indians (1994)


Coeur D'Alene Tribe (1995)
Confederated Tribes of Grand Ronde (1995)
Quinault Indian Nation (1995)
Squaxin Island Indian Tribe (1995)
Nisqually Indian Tribe (1997)
Swinomish Indian Tribal Community (1997)
Coquille Indian Tribe (1998)
Suquamish Tribe (1998)
Shoalwater Bay Indian Tribe (1999)
Kootenai Tribe of Idaho (2001)
Nez Perce Indian Tribe (2001)
Lower Elwha Klallam Tribe (2002)
Skokomish Indian Tribe (2002)
Tulalip Tribes of Washington (2002)
Muckleshoot Tribe (2003)
Confederated Tribes of the Coos, Lower Umpqua and Siuslaw Indians (2005)
Confederated Tribes of the Umatilla Indian Reservation (2005)
Kalispel Tribe of Indians (2006)
Cowlitz Indian Tribe (2011)
Cow Creek Band of Umpqua Tribe of Indians (2015)
Samish Indian Nation (2018)
Tucson Area (2)
Tohono O'odham Nation (2016)
Pascua Yaqui Tribe (2018)