The Indian Health Service continues to work closely with our tribal partners to coordinate a comprehensive public health response to COVID-19. Read the latest info.
IHS-Joslin Vision Network Teleophthalmology Program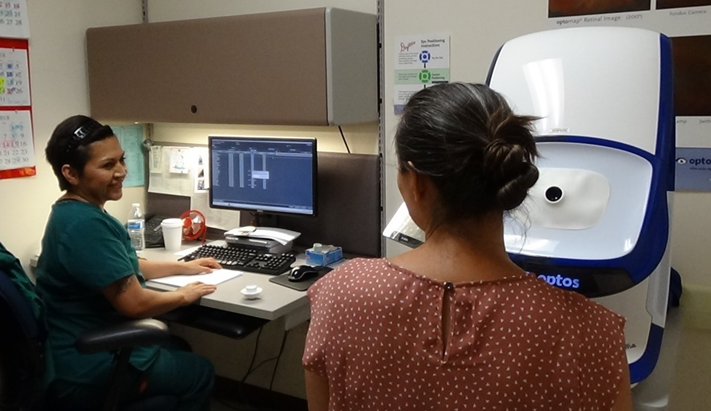 Preventing Diabetes-Related Blindness in American Indians and Alaska Natives
American Indians and Alaska Natives (AI/AN) have the highest prevalence rate of diabetes in the United States, more than twice the rate of the general population. Over time, diabetes causes damage to blood vessels in the eyes in a condition called diabetic retinopathy. The damage to the blood vessels can sometimes grow to dangerous levels causing moderate or severe vision loss (blindness). People with diabetic retinopathy may not be aware of it until it is too late and permanent vision loss has occurred. However, with regular examinations, timely diagnosis, and treatment, severe vision loss (blindness) can be avoided in most cases. AI/AN with diabetes are at increased risk for diabetes-related vision loss, largely because only half get the annual diabetic eye exam needed for timely diagnosis and treatment.
The Indian Health Service-Joslin Vision Network (IHS-JVN) Teleophthalmology Program was established in 2000 to use telemedicine technology to provide high quality, cost-effective, annual diabetic eye exams to AI/AN. When patients with diabetes arrive at their appointments in the primary care clinic, this technology obtains photos of the back of the eyes, without dilation. The photos are immediately sent to a reading center where eye doctors interpret them and report any abnormalities needing further evaluation and possible treatment. This program has significantly contributed to a decrease in diabetes related vision loss and blindness in AI/AN through improved compliance with standards of care.