Project Summaries
Apache Behavioral Health Services, Inc.
White Mountain Apache Behavioral Health Services (WMABHS), located on the Fort Apache Indian Reservation (FAIR) in eastern Arizona, operates three offices in the communities of Whiteriver, Cibecue and McNary. WMABHS provides outpatient and behavioral health services to individuals and families residing on the FAIR and to enrolled members of the White Mountain Apache Tribe (WMAT). The mission of the WMABHS ZSI is to improve and expand comprehensive suicide care through workforce training, improved access to care, collaborative safety planning, increased use of evidence-based screening/treatment, better continuity of care, and improved client outcomes. WMABHS develops cultural competency trainings/curriculums for WMABHS staff in collaboration with the Elders Council, the internal Cultural Committee, and tribal consultants. ABHS staff are currently required training for : safeTALK and/or ASIST, Relias Community Based Suicide and Suicide Risk Factors, Screening and Assessment, Interventions for Suicide Risk and Postvention for Survivors of Suicide, and lethal means, suicide risk assessment, and safety planning. ABHS also offers free training for clients, community members, teachers, and first responders to ensure that information about mental illness symptoms and treatment options are available. WMABHS introduced a new electronic health record (EHR) system to improve and expand data collection and reporting capabilities, and implemented evidence-based therapeutic treatment to treat individuals at risk of suicide. ABHS also regularly conducts reservation-wide outreach and public engagement campaigns, including face-to-face contact and distribution of culturally appropriate informational materials, to improve mental health awareness and engage the community.
Chinle Comprehensive Health Care Facility
Chinle Comprehensive Health Care Facility is located in Chinle, Arizona, with two off-site clinics located in Pinon and Tsaile, Arizona. The federal facility is a 60-bed inpatient hospital with more than 1,200 professional federal employees providing medical services to approximately 35,000 area Navajo. Much of the Navajo population comes from rural areas with many patients, including elderly Navajo-speaking only ones, traveling many miles to receive care. The Zero Suicide Initiative, also known as Iiná Ayóó'oo'nii: Embrace Life Project, is designed to provide evidence-based trainings and culturally informed suicide interventions to staff in primary care, urgent care, behavioral health and emergency services. The initiative aligns with the Tapestry of Wellness by ensuring exceptional customer experience, building interagency, tribal and community partnerships, ensuring patient-centered meaningful access to care, ensuring interdepartmental collaboration including leadership on development of policy and implementation of ZSI, improving health outcomes, and optimizing health services. The ZSI plans to establish suicide prevention as a core component within our health care system by applying a universal screening tool for assessing and treating at-risk suicidal patients, and using safety plans, patient engagement and care management, and implementing a suicide surveillance system.
Fort Defiance Indian Hospital Board Incorporated (FDSDA)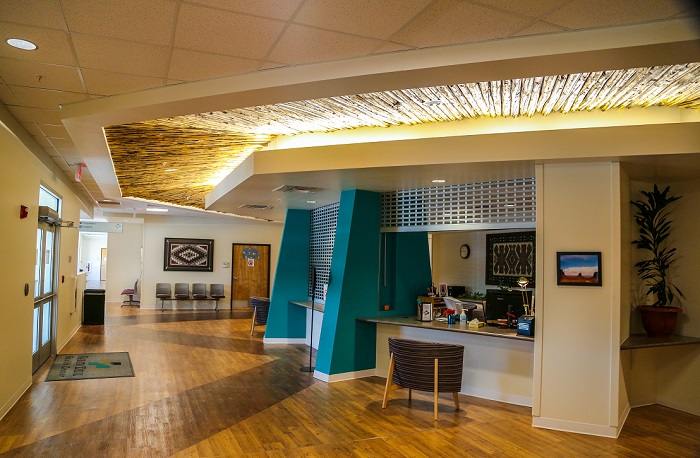 Fort Defiance Indian Hospital Board Incorporated (FDSDA) is located on the Navajo Nation Reservation in Fort Defiance, Arizona, with a second clinic, Nahata'Dziil Health Center, in Sanders, Arizona. The FDSDA provides medical services to citizens of the Navajo Nation with a total service population of 45,486. Annually, the facility served approximately 31,789 patients with 336,415 visits. The suicide rate for the FDSDA service area is twice that of Arizona, and more than the rates of the U.S. and Arizona combined. The Zero Suicide Initiate (ZSI) program at FDSDA is composed of a multidisciplinary team including nursing, emergency department (ED) providers, pediatrics (PEDS), behavioral health, an adolescent care unit, community prevention services, mobile health, and the Traditional Service Clinic. FDSDA's ZSI initiative has implemented an Evidence-Based Suicide Screen (CSSR-S) for patients age 11 to adult in the ED. The PEDS department screens patients starting at age 10 with a modified version of the ASQ in keeping with Navajo cultural beliefs – cultural appropriateness and sensitivity. FDSDA's Medical and Nursing Executive Teams reviewed the hospital-wide policy to support suicide/risk mitigation strategies and ensure that FDSDA's suicide prevention plans align with the Zero Suicide Model. The ZSI team collaborates with the Traditional Service Clinic to support employees several times a year with creative innovative talking-circle support groups for suicide loss survivors.
Gallup Indian Medical Center (GIMC)
The Gallup Indian Medical Center (GIMC) is located in Gallup, New Mexico (population 71,000) and borders the Navajo and Zuni Nations. GIMC is the largest of all Navajo Area Indian Health Service hospitals and provides about 300,000 outpatient encounters and 5,800 inpatient hospitalizations annually. The Gallup Service Unit (GSU) serves 16 Navajo communities in New Mexico and Arizona and 30 K-12 grade schools; the GSU includes the Tohatchi Health Center, an outpatient health care clinic, providing care to roughly 8,000 patients annually. Gallups's Zero Suicide Initiative Project is staffed by a project coordinator and a licensed clinical social worker who is assigned to the emergency room to provide screening, assessments, brief intervention, and referrals for all patients who screen positive for suicidal ideation and arrange clinically appropriate, evidence-based treatment based on risk level. Universal screening for suicidal ideation of all patients age 10 years and older is conducted at all outpatient appointments, in the emergency room, and inpatient admissions and discharge.
Lawton Indian Hospital
The Lawton Indian Hospital, located in Lawton, Oklahoma, primarily serves seven federally recognized tribes: The Apache, Caddo, Comanche, Delaware, Ft. Sill Apache, Kiowa, and Wichita Tribes. The hospital is a federal site with more than 300 employees and 30-plus providers serving 23,000 active patients, 140,000 outpatient visits, and 6000 ER visits per year. Our Zero Suicide Initiative Program consists of Integrated licensed mental health family specialists set up in each of our primary care clinics to provide screening, brief intervention, and referrals related to behavioral health needs. The Zero Suicide program therapists at the Lawton Indian Hospital conduct suicide risk assessment for all patients who screen positive for suicidal ideation and arrange clinically appropriate, evidence-based treatment based on the risk level. Universal suicidal ideation screening of all patients age 12 and older is conducted at all outpatient appointments as well as in the emergency room and inpatient admissions.
Menominee Tribal Clinic (MTC)
The Menominee Indian Tribe of Wisconsin located on the ancestral homelands of its 9,062 Tribal members, of which 3,990 reside within the boundaries of the Menominee Indian Reservation. The Menominee Tribal Clinic (MTC) provides an array of outpatient services, including primary medical, dental, optical, and behavioral health care, community health nursing, nutrition/WIC, pharmacy, and contract health. The Menominee Tribal Rescue Service (ambulance/EMS), based at MTC, provides access to care with hospital Emergency Departments in surrounding counties. The MTC Behavioral Health Services Department provides intake/assessment and counseling to individuals, couples, and families, as well as group counseling, community support, program services, and psychiatric care. The Menominee Zero Suicide Program implemented universal screening and, with multiple community partners developed a community support program to address diagnosed serious and persistent mental illness, a population at increased risk of suicide. The program provides needs-based services across 12 domains to individuals in their homes and community rather than in the clinic.
Pueblo of Acoma
Located 65 miles west of metropolitan Albuquerque, Pueblo of Acoma is one of the 23 federally recognized American Indian tribes in New Mexico with 19 of the sovereign nations representing Pueblo tribes. The Pueblo of Acoma Zero Suicide Initiative is administered through the Acoma Behavioral Health Services (ABHS) Behavioral Health Program under the Health and Human Services Division, and an IHS 638 funded program. ABHS's qualified staff provide Crisis intervention and mental health services. Qualified clinicians are able to respond to crisis calls within the community by utilizing an on-call system in collaboration with the local Acoma Police Department. Individuals experiencing suicidal ideation are assessed utilizing the CALM method as well as CAMS. Our nearest Indian Health Service Unit, the Acoma Canoncito Laguna (ACL) Hospital, is about 7 miles away. Those who are in emergent need of services are referred to ACL Hospital for further assessment and care by a clinical psychologist. Follow-up care is coordinated with ABHS using the clinical pathway developed by ABHS staff.
Rocky Boy Health Center (RBHC)
The Rocky Boy Health Center (RBHC) is located on the Rocky Boy Indian Reservation in Montana. The RBHC is the sole health care facility on the Reservation and is centrally located in the area. The RBHC provides primary health care services (general clinic, dental, vision, behavioral health) and specialty clinics such as diabetic prevention and treatment and substance abuse services, along with secondary services (community health representatives, emergency medical services, nephrology, and transportation) to the enrolled members and descendants of the Chippewa Cree Tribe and other tribes residing on the reservation or within the service area. The RBHC serves all Native people, not just enrolled members, within the catchment area. RBHC's Zero Suicide Initiative Project consists of a Project Coordinator and three case managers who provide integrated services with our medical team. They assist with the screenings and provide referrals to our behavioral health team or White Sky Hope Center for brief interventions or evidence-based treatment. Our Licensed clinical professional counselor provides direct patient care and is available to provide necessary brief counseling sessions for patients that need emergent care based on the screeners. Case managers also follow up with appointment scheduling, transportation or any assistance that might be needed, and complete universal screenings for patients.