Fort Belknap Service Unit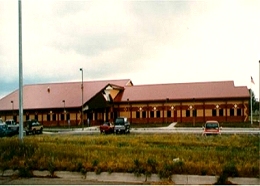 Mission Statement
The Indian Health Service provides a comprehensive health services delivery system for American Indians and Alaska Natives with opportunity for maximum tribal involvement in developing and managing programs to meet health needs. The goal is to raise the health status of the American Indian and Alaska Native people to the highest level possible.
Addresses
Fort Belknap Hospital
669 Agency Main Street
Harlem, Montana 59526
Main: (406) 353-3100
Fax: (406) 353-3227
Eagle Child Health Station
P.O. Box 610
Hays, Montana 59527
Main: (406) 673-3777
Fax: (406) 673-3835
Services Offered - Administrated by Indian Health Service
Outpatient Ambulatory Care – Fort Belknap Critical Care Hospital
8:00am - 5:00pm on Mon. Tues. Thurs. Fri.
12:30pm - 5:00pm on Wed.
Appointments Phone: 406-353-3137
Outpatient Ambulatory Care – Eagle Child Health Center
8:00am – 4:00pm on Mon. Tues. Thurs. Fri
12:30pm – 4:00pm on Wed.
Appointments Phone: 406- 673-3777
Inpatient Care 3-5 days at the Fort Belknap CAH. Patients requiring further hospitalization are referred or transported to one of the regional hospitals in Billings or Great Falls, Montana.
Urgent Care at the Fort Belknap CAH
24 hour emergency care, 7 days a week
911 Emergency/Ambulance
Phone: 406-353-3222
Pharmacy
8:30am – 12:00pm & 1:00pm – 5:00pm on Mon. Tues. Thurs. Fri.
1:00pm – 5:00pm on Wed.
Refill Phone Line: 406-353-3105
Compliance Phone Hotline – 406-353-3187
Behavioral Health – Mental Health and Social Services
Purchased/Referred Care (PRC)
Dental
Emergency Medical Services
Laboratory
Men's Health
Optometry
Outreach/Referrals
Pharmacy
Public health nutrition
Radiology
Specialty Clinics
Transportation Services
Mammography
Women's Health
Services Offered - Administrated by Tribal Health Department
The Fort Belknap Tribal Health Department, under P.L. 93-638, Self-Determination Law, administers programs under contract from Indian Health Service. The goal of P.L. 93-638 is to have Tribes become more involved and self-sufficient by participating in the administration and responsibility of providing care to the Native people. The Tribal Health Department administers:
Chemical Dependency Treatment Program
Community Health Representative Program
Diabetes Program
Family Planning Program
FAS/FAE Program
Health Education Program
Nutrition
Personal Care Attendants
Public Health Nursing Program
Sanitation/Environmental Program
Women, Infant and Children Nutrition Program – WIC
For Belknap Service Unit
Fort Belknap Service Unit is a Joint Commission 6-bed critical access hospital (CAH) located at the Fort Belknap Agency, Harlem, Montana, and a satellite health clinic located in Hays, approximately 35 miles away. The 6-bed CAH provides the majority of the health care for all Gros Ventres, Assiniboines, and eligible Native American patients on and near the Fort Belknap Reservation.
The Fort Belknap CAH outpatient visits average 39,000 per year. The new clinic in Hays, the Eagle Child Health Center, can adequately serve 13,000 per year. Our system of care includes IHS and Tribal Health programs that work in concert to deliver care to the community.
Community Information
Fort Belknap Indian Reservation is homeland to the Gros Ventre and the Assiniboine Tribes. The Reservation is home to the Gros Ventre (Ah Ah Nee Nin) and Assiniboine (Nakoda) Nations. The Gros Ventre call themselves the White Clay People or Ah Ah Nee Nin. The Assiniboine (from the Chippewa, meaning one who cooks by use of stone) is a detachment from the Sioux Tribe. Enrolled members living on or near the Fort Belknap Reservation is 5,771. Enrolled members living off the Fort Belknap Reservation is 1,532. There are four major communities at Fort Belknap: the Fort Belknap Agency in the northwest corner of the reservation; Hays, Lodgepole, and Milk River Valley. Harlem, which lies outside the reservation boundaries north of the Fort Belknap Agency, also has a large Indian population.
Fort Belknap Indian Reservation is located forty miles south of the Canadian border and twenty miles north of the Missouri River, which is the route of the Lewis and Clark Expedition. Fort Belknap Indian Reservation is the forth largest Indian reservation in Montana.
Because of the close working relationship, the Tribes have given Indian Health Service providers hunting and fishing privileges on the reservation, to hunt deer, antelope, elk, buffalo, and game birds. The area offers activities for all seasons from fishing, hiking, hunting, river rafting and all winter sports. Cultural events include pow wows throughout the year, county fairs and rodeos in the summer, and high school basketball games that have large community support. Besides the many activities and sights to take part in and see near the service unit, a short 3 hours drive will take you to Glacier National Park and a 6 hour drive can take you to Yellowstone National Park. "Big City" amenities and entertainment can be found with a drive to Billings or Great Falls, two of the largest cities in Montana.
Visitors to the Fort Belknap Reservation can take guided tours of the Snake Butte Area, the Tribal buffalo herd, and ancient teepee rings. Or they are welcome to tour on their own and visit the old round hall at Lodge Pole which is a Montana Historical Landmark, the Mission Canyon, Chief Joseph Battleground Monument, St. Paul's Mission Church, the Natural Bridge State Monument, the C.M. Russell National Wildlife Refuge or the Fort Belknap Gift Shop featuring handcrafted Native American arts and crafts. The Fort Belknap Community College operates and supports a commercial-free radio station. Since 1996 they have been broadcasting powwow music, contemporary tunes, weekend basketball games, updates on national Native American issues, and community issues including health fairs and clinic services offered by Indian Health Service.
Housing
Government housing is within walking distance of the Agency critical access hospital. There are 1, 2, 3, and 4 bedroom houses which are situated near the clinic compound as well as 6 plexed units. There are plans to build an additional 25 government housing units. Civil service personnel are responsible for rent and utilities. Some employees elect to rent or buy homes in the nearby communities of Harlem, Chinook, or Havre.
Transportation
US Highway 2 runs east to west across Montana and all communities along the highway are collectively called "The Hi Line." Route 66 runs north and south through the reservation. Most people use privately owned vehicles to travel on the reservation and to surrounding towns and cities. Airports can be found in Harlem, Chinook, and Havre. Great Falls and Billings offer international airports with commercial flights. Amtrak runs east to west across the Hi Line and can be boarded in the nearby towns of Havre and Malta.