Programs
Realty
The IHS Realty Management program assist in ensuring that federal owned lands and buildings are protected, managed, accounted for, developed, and utilized, in a timely and efficient manner.
The program's transactions range from acquisitions, demolitions, transfers of IHS owned land and buildings, lease acquisitions and disposals of federal and commercial real property, the permitted use of IHS owned property for use by Federal agencies, tribes, and public and private entities, and asset management reporting.
The Realty program implements the mandates of the Indian Health Care Improvement Act (P.L. 94-437) to provide the space necessary to achieve improved health care to American Indians and Alaska Natives and Indian Self Determination and Education Assistance Act (P.L. 93-638).
Realty
The Realty program provides guidelines and procedures for the acquisition, utilization, and disposal of IHS owned assets and the acquisition and disposal of leased federal and commercial real property assets.
Fixed Asset Capitalization
Several laws enacted by the Congress require a new level of coordination between the federal real estate assets and overall financial records of all Federal agencies. These laws are the Chief Financial Officers Act of 1990 (P.L. 101-576), and the Federal Financial Management Act of 1994 (P.L. 103-356). As a result of these Acts, the Federal Accounting Standards Advisory Board (FASAB) developed Standard 6 – Accounting for Property, Plant, and Equipment (FASAB #6). This standard directs how Federal agencies account for its owned assets (i.e., newly constructed, additions and improvements, demolitions and transfers) and those assets acquired through capital leases and leasehold improvements. These actions are funded through a number of funding sources such as new construction, maintenance and improvement (M&I), Medicare and Medicaid, etc. It is not the funding source, but rather the resultant change to an asset's value that requires an entry in the fixed asset module and subsequent reconciliation with the Agency's general financial statements.
Health Facilities Data System (HFDS)
The HFDS contains data related to IHS real property and lease holdings, Federal Real Property Council data elements, Maintenance & Improvement and Equipment funding allocations, Facilities Engineering Deficiency System (FEDS) and Environmental, Self Governance, Energy Management, Stewardship (Historic Preservation) reporting and Asset Management.
Quarters Management
The IHS Quarters Management Program is designed to provide policy and guidance on quarter's management issues; and provide procedures for effective implementation of IHS quarters management. The program oversees the Area and Service Units implementation of the quarters policy to ensure the availability of safe, suitable housing for personnel essential to the continuity of the IHS health care delivery system.
This oversight of the quarter's program's operation and management includes maintaining reliable quarter's occupancy and rental collections data. IHS realty officers (housing officers) and tenant managers enter quarters occupancy, rental and tenant data in real time using the Department of Interior's Internet Quarters Management Information System.
Leased Property
The IHS Realty's lease program is responsible for implementing DHHS policies and internal procedures on lease acquisition and administration. The HQ lease program is responsible for evaluating all Area and Service Unit requests for new or expanded lease space in support of IHS programs requirements. IHS Realty's lease program also established the Lease Priority System to assist the Area in obtaining approval for direct lease space acquisition. Lease program responsibilities include but not limited to reviewing and tracking both General Service Administration and Direct Lease space request and coordinating all leasehold interest between the Areas, Service Units, Engineering Services and the Department.
Asset Management
Asset Management provides information and technical consultation on the planning, coordinating, evaluating, and management and accountability of IHS owned facilities. The program has oversight and control over the maintenance, repair and improvement of IHS facilities and the responsibility to assess, improve, correct, and report on the effective and economical management and utilization of IHS-held real property. The Asset Management program is responsible for providing data submission to the Department in response to the data call requirements of the Federal Real Property Profile (FRPP) system.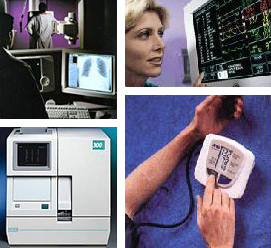 Clinical Engineering-Medical Equipment
Many health care services delivered by IHS require specialized medical equipment. Each health care facility must be equipped to meet its mission and IHS continues to explore innovative methods and new technologies to provide health care. Medical equipment is acquired for IHS and tribal health care facilities either as a part of construction of a new facility or with funds appropriated specifically to purchase equipment. There are two components to the medical equipment program: management of existing medical equipment, and funding/acquisition of new medical equipment.
Medical Equipment Management
To help meet the requirements of accrediting bodies, biomedical engineers and technicians use a computerized maintenance management system to manage and track service/repairs of medical equipment. IHS deploys state-of-the-art technology to bring primary care and specialty services to remote locations reducing geographic barriers between remote sites and health care providers. For example, remote sites use telemedicine to provide x-rays and digital images to distant health care providers. Telemedicine also enables communities to communicate through video conferencing during emergencies when transportation is difficult or impossible.
Medical Equipment Funding
Equipment funds are used for maintenance, upgrades, replacement, and the purchase of new medical equipment systems at IHS and tribal healthcare facilities. They directly support the Agency's priorities by: renewing and strengthening our partnership with Tribes and improving the quality of and access to care.
Accurate clinical diagnosis and effective therapeutic procedures depend in large part on healthcare providers using modern and effective medical equipment/systems to assure the best possible health outcomes. IHS and tribal health programs manage approximately 90,000 biomedical devices consisting of laboratory, medical imaging, patient monitoring, pharmacy, and other biomedical, diagnostic, and patient equipment valued at approximately $500 million. With today's medical devices/systems having an average life expectancy of approximately six years and rapid technological advancements, medical equipment replacement is a continual process and it is necessary to replace worn out equipment or provide equipment with newer technology to enhance the speed and accuracy of diagnosis and treatment.
Equipment Funds Allocation Method
Equipment funds are allocated in three categories: Tribally-constructed healthcare facilities, TRANSAM and ambulance programs, and new and replacement equipment:
Tribally-Constructed Healthcare Facilities - IHS provides medical equipment funds to support the initial purchase of equipment for tribally-constructed healthcare facilities. $5 million is set aside annually for competitive awards to Tribes and Tribal organizations that construct new or expand healthcare facilities space using non-IHS funding sources.
TRANSAM and Ambulance Programs - Equipment funds are also used to acquire excess medical equipment from the Department of Defense (DoD) or other sources through the TRANSAM (i.e., Transfer of DoD Excess Medical and Other Supplies to Native Americans) Program and to procure ambulances for IHS and Tribal emergency medical services programs. Currently IHS sets aside $500,000 for Ambulances and $500,000 for TRANSAM annually. Under the TRANSAM Program, excess equipment and supplies are acquired for distribution to federal and Tribal sites.
New and Replacement Equipment - The balance of the equipment funds are allocated to IHS and tribal healthcare facilities to maintain existing and purchase new medical equipment, including the replacement of existing equipment used in diagnosing and treatment of illnesses. The funding allocation is formula based.
Facilities Engineering Deficiency System
The Facilities Engineering Deficiency System (FEDS) is a module within HFDS and is used to manage deficiencies including the Backlog of Essential Maintenance, Alteration, and Repair (BEMAR) and unmet space needs. A deficiency is a need to repair, replace or alter buildings and structures. These deficiencies are typically beyond the scope or resources of the Facility Managers and their staff or have been overlooked and discovered during a Facilities Condition Survey. FEDS is used to:
Compare an installation's condition to other IHS installations
Define regular maintenance requirements
Define capital repair and replacement projects
Develop cost estimates
Eliminate conditions that are either potentially damaging to the property or present life safety hazards
Identify energy conservation measures
Better forecast the facilities budget
Facility Condition Assessment Program
The Facilities Condition Assessment Program (FCAP) is a process that incorporates a schedule for surveying IHS facilities to assess their condition which is reported and documented in the HFDS. This data may then be used to plan and implement the repair and modernization of IHS facilities, including the repair, modernization, and replacement of equipment and other systems and components.
The objective of the FCAP is to ensure that:
Good facilities condition data are available and used in the decision making process at all levels of IHS (i.e., Installation, Service Unit, Area Office, and HQ);
Data are developed at a reasonable cost; and
Data are evaluated using a consistent methodology across all Area Offices.
The FCAP applies to all Government-owned and direct leased IHS facilities and is optional for Tribally-owned healthcare facilities that provide data for HFDS. The FCAP program may be used, but is not required, for Government-owned quarters. However, Area Offices must report the condition of Government-owned quarters by other means if the FCAP is not used (e.g., through change of occupancy inspections).
BEMAR
BEMAR is an acronym for Backlog of Essential Maintenance, Alteration and Repair. BEMAR is derived from FEDS and consists of Public Law, Maintenance & Repair, and Improvements categories while excluding items which result from lack of deficiency code 6 – Unmet Supportable Space Needs and Deficiency Code 9 – Plant Management (Bench Stock, Service Contracts, and Training). BEMAR is reported to Congress annually and it is the basis of supporting the need for M&I funding.
Facilities Support Account (FSA)
Funds appropriated for the Facilities Support Account are used for salaries, and operating costs, and utilities. The personnel paid from this account operate and maintain health care facilities and staff quarters. Staff functions supported by this sub-activity include management, operation, and maintenance of land, buildings, building systems, medical equipment technical support, and planning and construction management for new and replacement facilities projects.
Maintenance and Improvement
The IHS maintains government owned/leased buildings whether operated by the IHS or tribal health programs pursuant to contract or compact arrangements executed under the provisions of the Indian Self Determination and Education Assistance Act (P.L. 93-638).
IHS also provides funding to tribally owned/leased building containing health programs pursuant to contract or compact arrangements executed under the provisions of the Indian Self Determination and Education Assistance Act (P.L. 93-638).
The Maintenance and Improvement (M&I) program objectives include:
Providing routine maintenance for facilities
Achieving compliance with buildings and grounds accreditation standards of the Joint Commission on Accreditation of health care Organizations (JCAHO) or other applicable accreditation bodies
Providing improved facilities for patient care
Ensuring that health care facilities meet building codes and standards
Ensuring compliance with Executive Orders and public laws relative to building requirements, e.g., energy conservation, seismic, environmental, handicapped accessibility, and security.
Continued funding is essential to ensure functional health care facilities that meet building/life safety codes, conform with laws and regulations and satisfy accreditation standards.
Energy and Water Conservation and Sustainability
In 1973, the Federal government issued a comprehensive energy conservation policy. The IHS began reporting quarterly on energy consumption at IHS facilities in compliance with the Energy Policy and Conservation Act of 1975. Reporting has progressed such that IHS facilities record their energy and water usage on a monthly basis in Energy Star Portfolio Manager and report usage to the Department of Health and Human Services annually.
In accordance with Executive Order 13693 Planning for Federal Sustainability in the Next Decade, several actions were established.
Significant requirements include:
Greenhouse Gas Reduction - Reduce greenhouse gas emissions 40 percent by 2025 compared to 2008
Energy Efficiency Improvement - Reducing energy consumption intensity in facilities 25 percent by 2025 compared to 2015
Clean Energy - Increase the use of clean energy, electricity and thermal, 30 percent by 2025 compared to 2015
Renewable Energy - Expand the use of renewable electricity in facilities 30 percent by 2025 compared to 2015 by implementing renewable energy projects and by purchasing electricity from renewable energy sources
Water Efficiency - Reduce water consumption 36 percent by 2025 compared to 2007
Petroleum - Reduce the consumption of petroleum within facilities
Source Energy - Implement site renewable sources of electricity to reduce source energy use, thus reducing associated greenhouse gas, and other air emissions
Implement performance contracts to help meet the targets listed above
Energy is linked to overall environmental management. Area Offices as well as facilities shall use life-cycle cost analysis in making decisions about their investments and planning.
Environmental Compliance and Remediation
Compliance with environmental regulations at the federal, state, and local levels has been mandated by Congress. As a result, environmental assessments have been performed at IHS and tribal facilities to identify and evaluate potential environmental hazards. These assessments form the basis of the IHS facilities environmental management plan. Congress appropriates $3,000,000 annually for remediating environmental hazards at IHS and tribally owned facilities. Another $500,000 is appropriated to demolish excess federal property in the IHS inventory.
Accreditation
Accreditation standards measure how well a safe, functional, and effective environment for patients, staff members, and other individuals in the organization is being maintained. The following areas are addressed: emergency preparedness, security, safety, life safety, medical equipment, utility systems, hazardous materials, and waste management.
Facilities and Self Determination
Since 1975, when Congress enacted the Indian Self-Determination and Education Assistance Act, tribes have been able to assume control over the management of their health care services by negotiating contracts with the IHS. The Indian Self-Governance Demonstration Project (SGDP), initially authorized in 1992, greatly expanded this partnership effort by simplifying the self-determination contracting processes and facilitating the assumption of IHS programs by tribal governments and organizations. Finally, in 2000, the President signed the Self-Governance Amendments of 2000, which established a permanent authority for the IHS to enter into self-governance agreements with tribes.
Technical Handbook
The Office of Environmental Health and Engineering program routinely develops guidelines and procedures related to various environmental health and engineering topics. This guidance is compiled in a comprehensive Technical Handbook for Environmental Health and Engineering in an organized form for easy reference and use. The handbook consists of a series of separately issued "volumes". Each volume deals with a specific program within the Office of Environmental Health and Engineering (OEHE). The volumes used and maintained by the Division of Facilities Operations are:
Volume IV – Real Property Management provides information and guidance on procedures to direct, coordinate, and evaluate the real property management programs. This includes accountability activities for federally owned land and improvements and IHS direct leased space. It also discusses workplace management and provides technical interpretation of the laws, regulations, policies, procedures, and practices in realty management.
Volume V – Clinical Engineering provides procedures and practices in the application of clinical engineering technology to support direct patient care. It addresses the requirements for clinical equipment inspections, tests, calibrations, repairs, hazard/recall/alert notification, preventative maintenance, and electrical safety. It also discusses user training for the safe use and application of medical devices, and the selection and evaluation process for purchasing clinical equipment.
Volume VI – Facilities Engineering provides procedures, practices, and technical requirements to follow in the planning, coordinating, and implementing day-to-day operations of facilities maintenance and repair programs. Topics include heating, ventilation, preventive maintenance, energy conservation, repairs and improvements to buildings and structures and non-clinical property, and operation of steam, air conditioning, water, and sewage plants.