The Indian Health Service continues to work closely with our tribal partners to coordinate a comprehensive public health response to COVID-19. Read the latest info.
Restoring Balance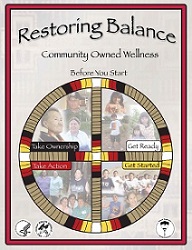 The Restoring Balance project grew out of an Indian Health Service (IHS) program developed in 1992, the "Groundswell towards Health" program. It trained local leaders in health promotion and community development, empowering them to deal with serious health and other issues in their communities. IHS and the Stanford University Health Promotion Resource Center developed a Restoring Balance manual to share these resources and training to other areas and Indian communities.
Today, the updated Restoring Balance initiative is part of the HPDP program. The program consists of HPDP coordinators at each of the IHS Service Areas, the Healthy Natives Community Fellowship (HNCF), and IHS headquarters. The current Restoring Balance - Community Owned Wellness [PDF - 2.8 MB] manual is revised with activities addressing community capacity as identified by local communities supported by the Area Coordinators and the HCNF program.