MAINTENANCE
www.ihs.gov will be undergoing maitenance starting at 8:30 PM ET on Thursday, December 7, there might be intermittent outages between 8.30 PM - 11.30 PM ET. We apologize for any inconvenience.
Produce Prescription Programs
Produce prescription programs have been shown to increase access to nutritious foods in communities at risk for food insecurity. These programs help meet the needs of individuals and families experiencing food insecurity and diet-related health problems by making fruit and vegetables more readily available to communities in need.
American Indian and Alaska Native (AI/AN) people are disproportionately impacted by food insecurity when compared to non-Native people. They are also more likely to live in areas with low or no access to fresh foods than any other racial or ethnic group. About one in four Native people experience food insecurity, compared to one in nine Americans overall. The higher rates of food insecurity amongst AI/AN people are worsened by water insecurity, loss of land, forced relocation, and environmental pollution, all of which have negatively impacted traditional healthy food practices.
IHS Produce Prescription Pilot Program (P4)
The IHS Produce Prescription Pilot Program (P4) supports the Biden-Harris Administration's National Strategy on Hunger, Nutrition, and Health Exit Disclaimer: You Are Leaving www.ihs.gov [PDF] by helping to end hunger and increase healthy eating and physical activity by 2030 so fewer Americans experience diet-related diseases.
The aim of P4 is to demonstrate and evaluate the impact of produce prescription programs on AI/AN people and their families. More specifically, the overall goal is to improve health care outcomes by reducing food insecurity and improving overall dietary health by increasing consumption of fruits, vegetables, and traditional foods.
IHS awarded a total of $2.5 in funding to help decrease food insecurity in Native communities. Of that funding, the following tribes and tribal organizations received $500,000 each in 2023 to implement a produce prescription program in their communities: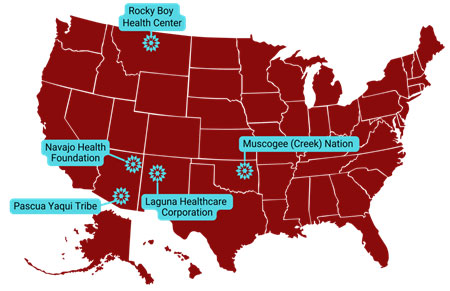 | Grant Recipient | City | State |
| --- | --- | --- |
| Laguna Healthcare Corporation | Paraje | New Mexico |
| Muscogee (Creek) Nation | Okmulgee | Oklahoma |
| Navajo Health Foundation - Sage Memorial Hospital | Ganado | Arizona |
| Pascua Yaqui Tribe | Tucson | Arizona |
| Rocky Boy Health Center | Box Elder | Montana |
Press Release (July 31, 2023)
Additional Produce Prescription Efforts in Tribal Communities