The Indian Health Service continues to work closely with our tribal partners to coordinate a comprehensive public health response to COVID-19. Read the latest info.
Division of Diabetes Treatment and Prevention (DDTP)
Special Diabetes Program for Indians (SDPI)
Clinician CME/CE Training and Resources
Tools for Diabetes Educators and Community Members
Upcoming Events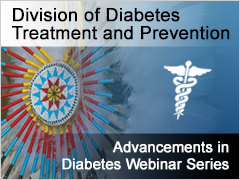 Upcoming Live CME/CE Education
December 1st @ 3pm EST
Update on Obstructive Sleep Apnea (OSA)
Anna Miller, MD
ABIM – Internal Medicine and Sleep Medicine
Clinical Staff-Internal Medicine
Cherokee Nation
Join the IHS Diabetes LISTSERV to receive updates on training opportunities, research, and resources related to diabetes prevention and treatment in American Indian/Alaska Native communities.