Special Diabetes Program for Indians

In response to the diabetes epidemic among American Indians and Alaska Natives, Congress established the SDPI grant programs in 1997. This $150 million annual grant program, coordinated by IHS Division of Diabetes with guidance from the Tribal Leaders Diabetes Committee, provides funds for diabetes treatment and prevention to IHS, Tribal, and Urban Indian health programs across the United States.
SDPI Updates
IHS Division of Diabetes Treatment and Prevention
August 6-9, 2019 | Cox Convention Center | Oklahoma City, OK
Register Now! No registration fee.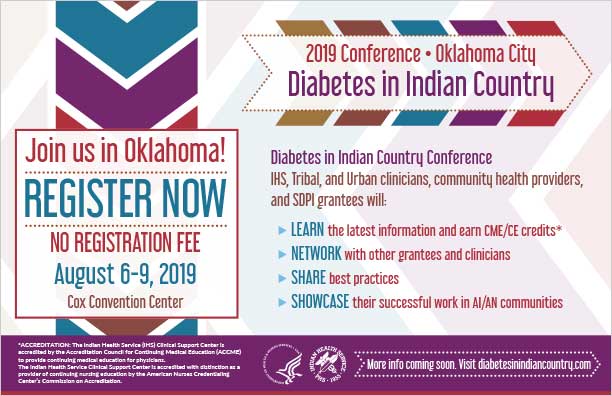 ---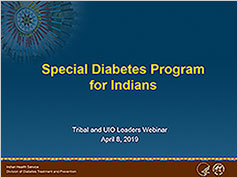 SDPI is in the 4th year of the current 5-year grant cycle. If funding continues, the next SDPI grant cycle will be for the fiscal years 2021-2025. To prepare for this, a national Tribal Consultation/Urban Confer regarding SDPI is planned for Fall 2019. This recorded webinar (presented live on April 8, 2019) conveys information on SDPI that will be helpful as Tribal and Urban Indian Organization (UIO) Leaders provide input during the Tribal Consultation/Urban Confer process. SDPI grantees are encouraged to pass this information on to their Tribal/UIO leaders and also are welcome to review this recording. (55:22 minutes)
Information, instructions, and documents for the required FY 2020 Continuation Application are now available. This application is due for SDPI grantees by September 2, 2019.
Check out and share this new video, produced in collaboration with ADA TV. It highlights SDPI and the remarkable improvements that are changing the course of diabetes in Indian Country. Dedicated to all SDPI grantees and featuring the Chickasaw Nation Diabetes Program, the video premiered at the 78th American Diabetes Association Scientific Sessions in Orlando, FL, June 22–26, 2018. (Running time: 5:40)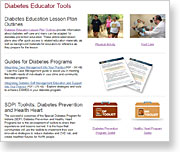 See what the IHS Division of Diabetes has to offer for those who provide diabetes education. Find Guides for Diabetes Programs, Diabetes Prevention Program Toolkit, Program Spotlights, and more!
---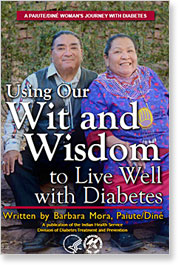 Join Barbara Mora (Paiute/Diné) as she takes you on her emotional journey with diabetes through a cultural perspective. This re-printed book is updated with stories and pictures, and is sure to be a favorite to share with friends and family. Order yours today!
Upcoming Live CME/CE Education
July 25th @ 3 pm EDT
Prenatal Colostrum Collecting: an Opportunity for Disease Prevention
Marsha Walker, RN, IBCLC
BA Psychology, BS Nursing
Lactation Consultant
SDPI Q&A Webinar
August 15th @ 3pm EDT