Special Diabetes Program for Indians

In response to the diabetes epidemic among American Indians and Alaska Natives, Congress established the SDPI grant programs in 1997. This $150 million annual grant program, coordinated by IHS Division of Diabetes with guidance from the Tribal Leaders Diabetes Committee, provides funds for diabetes treatment and prevention to IHS, Tribal, and Urban Indian health programs across the United States.
SDPI Updates
Listen to Dr. Ann Bullock, director of the Division of Diabetes Treatment and Prevention, discuss positive developments in fighting diabetes and take questions from listeners. Originally broadcast on October 25, 2019.
---
Thank you for joining us at the 2019 Diabetes in Indian Country Conference!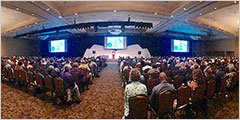 The 2019 IHS Diabetes in Indian Country Conference was held in Oklahoma City August 6 - 9. See our conference highlights to find materials, enjoy photos, and more.
---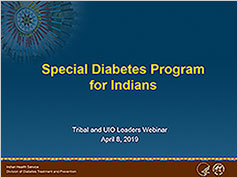 SDPI is in the 4th year of the current 5-year grant cycle. If funding continues, the next SDPI grant cycle will be for the fiscal years 2021-2025. To prepare for this, a national Tribal Consultation/Urban Confer regarding SDPI is planned for Fall 2019. This recorded webinar (presented live on April 8, 2019) conveys information on SDPI that will be helpful as Tribal and Urban Indian Organization (UIO) Leaders provide input during the Tribal Consultation/Urban Confer process. SDPI grantees are encouraged to pass this information on to their Tribal/UIO leaders and also are welcome to review this recording. (55:22 minutes)
---
Information, instructions, and documents for the required FY 2019 Annual Progress Report submission are now available.
---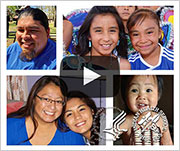 Check out and share this new video, produced in collaboration with ADA TV. It highlights SDPI and the remarkable improvements that are changing the course of diabetes in Indian Country. Dedicated to all SDPI grantees and featuring the Chickasaw Nation Diabetes Program, the video premiered at the 78th American Diabetes Association Scientific Sessions in Orlando, FL, June 22–26, 2018. (Running time: 5:40)
---
Find culturally relevant and easy-to-use materials for providers, patients, and clients. Materials are free to order, or to download and print.
SDPI Optional Webinar
January 23rd @ 3pm EST
2020 Baseline RKM Data Submission
Upcoming Live CME/CE Education
January 29th @ 3 pm EST
Diabetes Education: Thinking Outside of the Box
Ruth Anne McGovern, MS, FNP, CDE
Asst Medical Director
Native American Rehabilitation Association of the NW – Portland, OR