The Indian Health Service continues to work closely with our tribal partners to coordinate a comprehensive public health response to COVID-19. Read the latest info.
Special Diabetes Program for Indians (SDPI)
Coronavirus/COVID-19
IHS Coronavirus (COVID-19) Website
IHS COVID-19 Resource webpage COVID-19 Patient Education Resources:
Centers for Disease Control and Prevention (CDC) COVID-19 Website
---
COVID-19 and Diabetes
People with diabetes who are infected with the coronavirus are more likely to develop severe coronavirus disease (COVID-19) and complications.

They should be especially diligent to reduce risk of exposure, including hand washing, practicing social distancing, and staying home as much as possible.

Managing diabetes can be more challenging during this time.

Blood sugars: activity restriction, changes in eating patterns, and illness can all affect blood sugars. Patients should monitor more closely and call their health care team if they are having problems.
Medications: patients should ensure they have sufficient medications and call their health care team if they need refills.

To reduce the risk of coronavirus exposure, avoid going to the clinic unless necessary. Patients who develop mild symptoms should monitor their blood sugars, stay well hydrated, and call their health care team with concerns.
For severe symptoms, seek medical care right away.
Free Online CME/CE Training

In response to the diabetes epidemic among American Indians and Alaska Natives, Congress established the SDPI grant programs in 1997. This $150 million annual grant program, coordinated by IHS Division of Diabetes with guidance from the Tribal Leaders Diabetes Committee, provides funds for diabetes treatment and prevention to IHS, Tribal, and Urban Indian health programs across the United States.
SDPI Updates
The prevalence of diabetes in American Indian/Alaska Native (AI/AN) adults has decreased significantly. Free full text article: Prevalence of diagnosed diabetes in American Indian and Alaska Native adults, 2006–2017. [PDF] Exit Disclaimer: You Are Leaving www.ihs.gov
---
Get your newly-revised edition of the "90-Day Journal for Wellness." This 256-page full-color journal features photos and quotes from Tribal community members. It includes daily messages, a section to identify feelings and thoughts, and a place to track your self-care activities on your wellness journey. Let the words inside you be your guide to good health of mind, body, and spirit.
---
Information, instructions, and documents for the required 2021 Continuation Application are now available.
---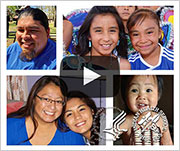 Check out and share this new video, produced in collaboration with ADA TV. It highlights SDPI and the remarkable improvements that are changing the course of diabetes in Indian Country. Dedicated to all SDPI grantees and featuring the Chickasaw Nation Diabetes Program, the video premiered at the 78th American Diabetes Association Scientific Sessions in Orlando, FL, June 22–26, 2018. (Running time: 5:40)
---
Find culturally relevant and easy-to-use materials for providers, patients, and clients. Materials are free to order, or to download and print.