SDPI Reports to Congress
The Special Diabetes Program for Indians (SDPI) Reports to Congress highlight the program's ongoing and outstanding contributions to improvements in diabetes care and health outcomes for American Indian and Alaska Native (AI/AN) people. As documented in the most recent (2020) report, there have been decreases in diabetes prevalence and diabetes-related mortality and kidney failure. Read the full report to learn more about SDPI and its positive impact on AI/AN people and communities.
SDPI 2020 Report to Congress
Download the
SDPI 2020 Report to Congress [PDF – 5 MB]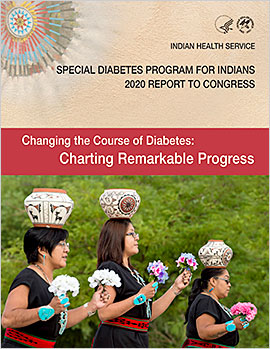 ---
Previous Reports to Congress
2014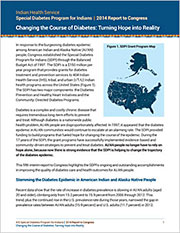 Changing the Course of Diabetes:
Turning Hope into Reality
[PDF - 472 KB]
2011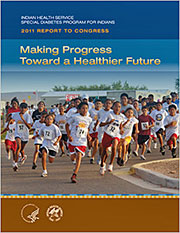 Making Progress
Toward a Healthier Future
[PDF - 11 MB]
2007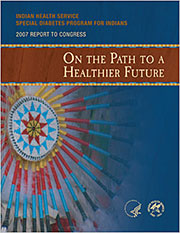 On the Path to a
Healthier Future
[PDF - 48 MB]
---
For More Information
Diabetes-Related Facts Sheets and Publications – Information about diabetes and related health conditions in AI/AN people, SDPI, and the Diabetes Prevention/Healthy Heart (DP/HH) programs.
IHS Newsroom Reports to Congress – Find more published IHS Reports to Congress on this webpage.