The Indian Health Service continues to work closely with our tribal partners to coordinate a comprehensive public health response to COVID-19. Read the latest info.
SDPI Diabetes Best Practices
Overview
As part of their required activities, SDPI Community-Directed grantees will implement one SDPI Diabetes Best Practice (also referred to as "Best Practice"). The Best Practices are focused areas for improvement of diabetes prevention and treatment outcomes in communities and clinics. Note that, as in previous years, grantees may use some of their SDPI funds for diabetes-related activities outside of their selected Best Practice.
Links to the SDPI Diabetes Best Practices can be found below and a printable list can be found in the Best Practice Summary Table [PDF – 233 KB].
To assess improvement on outcomes, each Best Practice includes one Required Key Measure (RKM) that programs will track and report on regularly. Grantees will collect data on the RKM for individuals in their Target Group. The Target Group is the carefully selected set of individuals that grant programs can realistically serve. Each Best Practice provides guidance on selecting an appropriate Target Group.
---
SDPI Diabetes Best Practices
---
SDPI Diabetes Best Practices Webinar Recording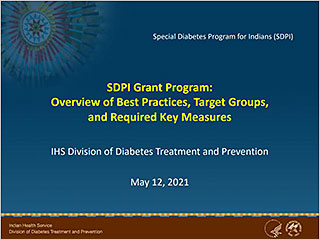 ---
Using SDPI Diabetes Best Practices
Applicants choosing the same Best Practice may propose different activities/services with different Target Groups. See the example below.
| SDPI Program | Selected Best Practice | Activities/Services | Target Group Description |
| --- | --- | --- | --- |
| A | Nutrition Education | Providing nutrition education related to breastfeeding support. | Pregnant women ages 18-30 with or at risk for diabetes from local I/T/U clinic. |
| B | Nutrition Education | Providing nutrition education related to diabetes prevention. | Youth ages 8-15 at risk for diabetes at local Boys & Girls Club. |
| C | Nutrition Education | Providing nutrition education from a Registered Dietitian related to heart health. | Adults with diabetes ages 18-45 at risk for CVD from local I/T/U clinic. |
Diabetes and Pregnancy
Diabetes treatment goals and medications for non-pregnant people with diabetes are not always generalizable to those who are pregnant. The Target Group should not include pregnant individuals in the following Best Practices:
Aspirin or Other Antiplatelet Therapy in Cardiovascular Disease
Blood Pressure Control
Chronic Kidney Disease Screening and Monitoring
Glycemic Control
Lipid Management in Cardiovascular Disease
---
Questions?
Please include your name, contact information, and program name when submitting questions.
For questions about information on this webpage, contact the SDPI Team.