The Indian Health Service continues to work closely with our tribal partners to coordinate a comprehensive public health response to COVID-19. Read the latest info.
Audit Training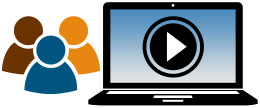 There are many different training opportunities for the Audit, including classroom-based and live and recorded webinars. These trainings are hosted by IHS and other organizations and cover a variety of topics, including comprehensive use of the Resource and Patient Management System (RPMS), Diabetes Management System (DMS), and how to use the WebAudit.
Division of Diabetes Sponsored Training
Live Training Webinars
No webinars currently scheduled.
Recorded Training Webinars
Click on a Topic to view the recording.
IHS Office of Information Technology (OIT) Sponsored Training
IHS OIT offers extensive training on using the RPMS, including sessions on the DMS which cover the Audit. For more information, visit the RPMS training website.
---
Northwest Portland Area Indian Health Board (NPAIHB) Sponsored Training
The NPAIHB offers training on using RPMS/DMS. For more information and a schedule of classes, visit the NPAIHB website. Exit Disclaimer: You Are Leaving www.ihs.gov