Audit 2020 Resources
Instructions and Forms
Carefully read the Audit Instructions document and review the Audit Form before beginning your Audit, even if you have conducted an Audit before.
Resource and Patient Management System (RPMS) Diabetes Management System (DMS) Materials
Note year for each document. Updated documents for 2020 will be provided as they become available.
Checklists
To facilitate completion of all steps in the annual Audit process, please refer to the appropriate checklist. Updated checklists for Audit 2020 will be available soon.
Additional Resources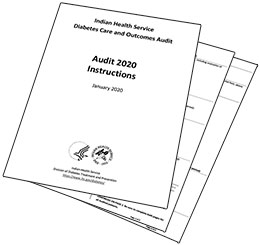 Annual Audit 2020
WebAudit open (anticipated):
February 1, 2020
RPMS/DMS patch release (anticipated):
February 1, 2020
Due date:
March 16, 2020
Audit period end date:
December 31, 2019