The Indian Health Service continues to work closely with our tribal partners to coordinate a comprehensive public health response to COVID-19. Read the latest info.
Audit 2021 Resources
Instructions and Forms
Carefully read the Audit Instructions document and review the Audit Form before beginning your Audit, even if you have conducted an Audit before.
Resource and Patient Management System (RPMS) Diabetes Management System (DMS) Materials
Checklists
To facilitate completion of all steps in the annual Audit process, please refer to the appropriate checklist.
Additional Resources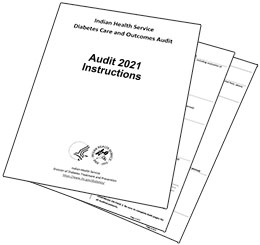 Annual Audit 2021
WebAudit open:
January 28, 2021
RPMS/DMS patch release:
January 28, 2021
Due date:
March 15, 2021
Audit period end date:
December 31, 2020