The Indian Health Service continues to work closely with our tribal partners to coordinate a comprehensive public health response to COVID-19. Read the latest info.
Conducting An Audit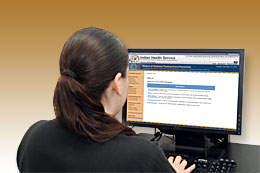 Overview
The IHS Diabetes Care and Outcomes Audit ("Audit") is a process for assessing diabetes care and health outcomes for American Indians and Alaska Natives with diagnosed diabetes. Assessing the care and health of patients with diabetes on a regular basis allows health care facilities to see the strengths and weaknesses of the diabetes care they are providing. By carefully reviewing the results of their Audits, facilities can identify areas for improvement and implement strategies to work towards the goal of providing all diabetes patients with the highest quality of care, as outlined in the Diabetes Standards of Care and Resources for Clinicians and Educators.
Methods
To perform an Audit, data for patients with diabetes are collected at the local clinic or hospital by one of two methods:
Electronic audit – Extraction of data from an electronic medical record system directly into a data file, usually via the IHS Resource Patient Management System (RPMS). For the annual Audit, the electronic data file is then uploaded into a central database via the WebAudit's Upload Data tool. See Audit RPMS/DMS Information for additional resources.
Manual audit – Manual chart review, where one physically examines the medical record and uses its information to complete an paper Audit form

[PDF – 133 KB]

, using the detailed Audit instructions

[PDF – 645 KB]

as a guide. For the annual Audit, data from the audit forms are then entered into a central database via the WebAudit Data Entry tool.
There are pros and cons to both manual and electronic audit methods. Learn more about them in the Audit instructions. [PDF – 645 KB]
Annual Audit
Once a year, IHS, Tribal, and Urban Indian health care facilities nationwide audit medical records for their patients with diabetes. Participating facilities submit their data to the IHS Division of Diabetes for centralized processing and analysis. The data are aggregated and used to generate reports with nationwide information for IHS leadership, Congress, and other Federal agencies.
Each year the data elements in the Audit are reviewed and changed as necessary to reflect current standards of diabetes care.
For detailed instructions and forms for the current Audit year, visit the Audit Resources page.
Interim Audits
In addition to the Annual Audit, facilities can use the WebAudit and RPMS tools to conduct Audits throughout the year, known as Interim Audits. These tools are based on the data elements and reports for the most recent Annual Audit and can be used as many times as needed. Facilities may use Interim Audits to review changes over time or to conduct Audits on specific subgroups of patients, such as a particular community or age group.
For detailed instructions and forms for the most recent Annual Audit, visit the Audit Resources page.