General Information
Important SOS Dates for SDPI Grantees
2022 Final Data
due January 31, 2023 (required)
2023 Baseline Data
due February 28, 2023 (required)
2023 Mid-Year Data
due June 30, 2023 (optional)
The SOS is a web-based data system for SDPI Community-Directed grant programs. All programs are required to submit Required Key Measure (RKM) data for their Target Group for their selected Diabetes Best Practice via the SOS. See below for additional information.
Target Group Information
The Target Group is made up of the individuals (members) who will be included in the activities/services a program provides for their selected Diabetes Best Practice. In the Project Narrative for the SDPI grant application, programs provided information about their Target Group, including the anticipated number of members and a brief description. This information must be entered into the SOS before any RKM data can be submitted.
---
Required Key Measure Data Submission – When
Each Diabetes Best Practice has one Required Key Measure. SDPI grant programs must submit baseline and final RKM data via the SOS for their Target Group. Due dates for 2023 are listed below.
Baseline (Required): Submit by February 28, 2023
Mid-Year (Optional): Submit by June 30, 2023
Final (Required): Submit by January 31, 2024 (based on time period Jan 1 to Dec 31, 2023)
Grantees may also submit RKM data more often, if that is possible and helpful for their program.
---
Required Key Measure Data Submission – How
RKM data can be submitted into the SOS in three different ways: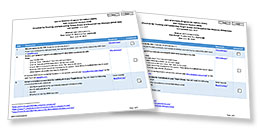 WebAudit (preferred): Enter or upload individual data into the Diabetes WebAudit and "pull" it into SOS.
Individual: Enter a list of Target Group members and their RKM data into the SOS, which will calculate a numerator and denominator.
Aggregate (least preferred): Enter a numerator and denominator for RKM directly into the SOS. Note: To use this method for your Final RKM data, a waiver will be required.
---
Additional Information
Detailed information about the SOS will be provided through training webinars. See the SOS training webpage for more information.
Visit the SOS help and support webpage if you have questions or need assistance with any SOS related issues.