Provider Considerations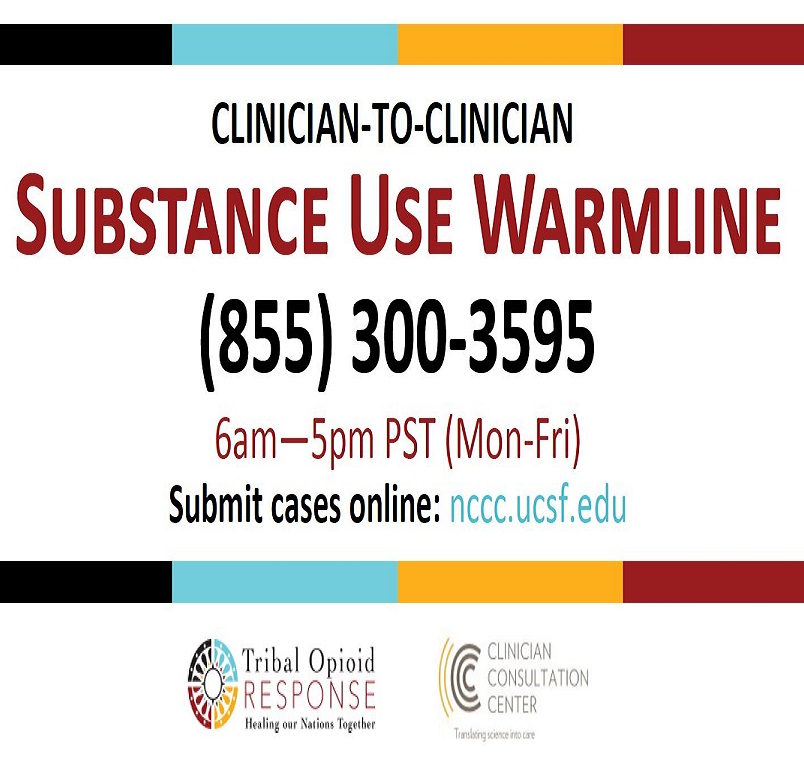 Clinician-To-Clinician Substance Use Warmline
IHS is pleased to announce a collaboration with the National Clinician Consultation Center that provides a new resource for the provider 'toolbox' that also supports I/T/U sites with increasing access to Medication Assisted Treatment.
The Substance Use Warmline (1-855-300-3595) offers free, on-demand Clinician-To-Clinician support for I/T/U providers managing substance use disorders. The Warmline is available Monday through Friday from 6am to 5pm Pacific Time (PT) for all health care providers in IHS federal, tribal, and urban facilities. Calls are answered by trained clinical support specialists with diverse experience and extensive training in substance use disorder interventions.
Legal Considerations
PRESCRIBING BUPRENORPHINE
On December 29th 2022, The Consolidated Appropriations Act of 2023 was signed into law and eliminated the Drug Addiction Treatment Act of 2000's (DATA) waiver (X-Waiver) requirement for prescribing buprenorphine for opioid use disorders. The removal of administrative barriers to buprenorphine prescribing supports Indian healthcare providers in efficiently and effectively providing evidence-based treatment, strengthens the provider-patient relationship, and supports persons in recovery. Agency, Area, facility, and prescriber factors are considerations in the full implementation of this rule change.
Read more about these changes in the Buprenorphine Prescribing Updates flyer. [PDF - 244 KB]
Access the following link to increase your general knowledge:
Long-Acting Buprenorphine (Sublocade®)
Providers and pharmacies must follow a number of specific steps based on federal requirements when providing treatment with long-acting buprenorphine. Consider using the following tip sheets when offering these medication options to patients.
Additional Resource
For additional collaboration and training opportunities, consider registering and engaging in Indian Country ECHOs. Exit Disclaimer: You Are Leaving www.ihs.gov
Training Resources
The Curated Library about Opioid Use for Decision-makers (CLOUD)
CLOUD was created by the Center for Evidence-based Policy at Oregon Health & Science University, in partnership with the National Governors' Association and Milbank Memorial Fund. CLOUD Exit Disclaimer: You Are Leaving www.ihs.gov is a centralized repository of information to assist decision-making at all levels of the system and offers carefully curated, high quality, evidence-based resources on opioids and the opioid crisis for decision-makers tailored to three audiences: Policymakers and Community Leaders, Payers and Providers, and Patients and Caregivers.
CLOUD is funded by the Oregon Attorney General's Consumer and Prescriber Education Grant Program (CPGP)
Methadone
SAMHSA, the Food and Drug Administration (FDA), and the Drug Enforcement Administration (DEA) constitute a three-tier regulatory system restricting methadone prescribing to oral formulations by registered prescribers in Opioid Treatment Programs (OTP). Individual states determine if mid-level providers are authorized to prescribe methadone.
The Narcotic Addict Treatment Act (NATA) of 1974 Exit Disclaimer: You Are Leaving www.ihs.gov requires prescribers to register annually with the DEA and establishes recordkeeping requirements including unsupervised take-home prescriptions of methadone.