Commissioned Corps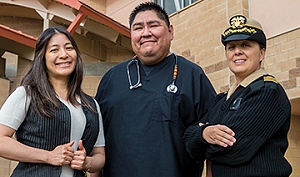 The federal government also offers a career path through the Commissioned Corps of the US Public Health Service (USPHS). Health professionals interested in pursuing this path will serve as a commissioned officer assigned to the Indian Health Service for a minimum two-year service commitment.
The USPHS is one of the seven Uniformed Services of the United States. However, it is not a branch of the Armed Forces. It provides a spectrum of outstanding federal benefits available to all Uniformed Services.
Benefits
Accession bonus (sign-up bonus) varies by specialty and requirement.
30 days paid vacation.
10 paid federal holidays.
Sick leave as needed.
Comprehensive health care.
Tax-free subsistence housing allowance.
No-cost malpractice coverage.
Non-contributory retirement.
Thrift savings (contributory) retirement.
Annual continuing education where available.
Space-available flights on military aircraft.
Eligibility Requirements
US citizenship.
Meet current physical, medical, and security requirements
Must be under 44 at the time of commission.
Bachelor's of science in nursing or a master's of science in nursing (with no qualifying baccalaureate degree) from a nursing program that is accredited by the National League for Nursing Accrediting Commission or the Commission on Collegiate Nursing Education.
Current, unrestricted, and valid Registered Nurse license from one of the 50 States; Washington, DC; the Commonwealth of Puerto Rico; the U.S. Virgin Islands; or Guam
Passing score on the National Council Licensure Examination (NCLEX)
Visit the United States Public Health Service (USPHS) website Exit Disclaimer: You Are Leaving www.ihs.gov for more information on employment and benefits as a Commissioned Corps officer.