The Indian Health Service is working closely with our tribal partners to coordinate a comprehensive public health response to both COVID-19 and mpox.
ECC Prescription Pads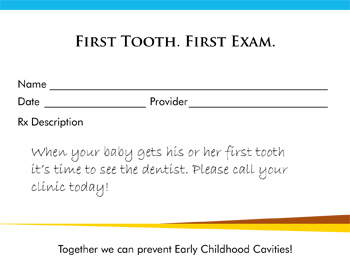 The ECC Collaborative has developed prescription pads for our medical and community health staff to promote dental visits for 0-2 year old children because we know that if we want to prevent ECC, we must reach the families of 0-2 year olds.
Pad Template and Ordering Information
For more information about Prescription for Oral Health, please contact Suzanne Marks, Director, Albuquerque Area Dental Support Center Suzanne.marks@ihs.gov or 505.922.4246
Read how Albuquerque Area is using these Oral Health Prescription Pads to increase Access to Care for their 0-2 year old patients in the ECC Program Spotlight.