Information for Parents and Families
Pregnancy and Parental Health
Stepping into any new role may be overwhelming, especially when that role is becoming a parent. Becoming a parent may bring excitement and happiness to your life, but it also may bring new responsibility, worry, fatigue, and stress. These stressors may affect a person who is doing their best to fulfill their role as a parent, which has the potential to lead to anxiety, depression, and substance use (including alcohol, tobacco, and prescription and illicit drugs). If you have used substances in the past you may be at a higher risk of using again. Help is available for those who are dealing with substance use problems. Using illicit substances during pregnancy can cause dependence not only to the pregnant person but also the baby.
Pregnancy and Parenting Safe Care for Substance Use Disorders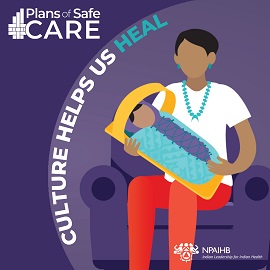 Learn about substance use, pregnancy, and caring for your mind, body, and spirit. The Plans of Safe Care Toolkit contains handouts designed to help support you and your loved ones transition into and remain in active recovery, and assist affected partners and families in growing stronger. Download and share the handouts below.
---
---
National Maternal Mental Health Hotline
Are you a new parent and feeling sad, worried, overwhelmed, or concerned that you aren't good enough? You aren't alone. You aren't to blame. With help, you can feel better. Call or text 1- 833-9-HELP4MOMS (1-833-943-5746) to connect with counselors at the National Maternal Mental Health Hotline Exit Disclaimer: You Are Leaving www.ihs.gov .
The National Maternal Mental Health Hotline provides 24/7, free, confidential support, resources, and referrals to those who are pregnant or postpartum and their loved ones who are facing mental health challenges. The service is available via phone and text in English or Spanish.
Culture and Treatment
An example of a whole-person treatment approach is the Lakota Worldview Exit Disclaimer: You Are Leaving www.ihs.gov Healing for individuals and families, a powerful journey that can be a lifelong process, unique for each person and/or family. Two videos featuring Lakota members describe the what the journey is like when smooth and free from interruption, and what happens when imbalance and disruptions happen in each of the four stages of life from childhood through returning to the spirit world.
FAQs
Other Information
During pregnancy, the baby shares the medicines, drugs, nicotine, alcohol, herbal remedies, and other substances you use while pregnant. When pregnant people use street drugs (also called illegal or illicit drugs) such as heroin, methamphetamine, cocaine, marijuana during pregnancy, the baby is exposed to the drug and their effects. Opioid use disorder, opioid dependence, and poly-substance (multiple drug) use during pregnancy are medical conditions that can severely impact the health of the pregnant person and the baby. Help is available for those who are dealing with substance use problems and their families to achieve long-term recovery.
If you have used heroin or the prescription drugs called opioids, don't stop taking them without getting treatment from your doctor first. Abruptly stopping can cause problems for your baby. Because stopping use can cause early labor, distress to the baby, and miscarriage, those who have been using opioids during their pregnancy should not suddenly quit.
The best treatment for opioid use disorder during pregnancy includes opioid replacement medication, behavioral therapy, and counseling. Medications that are safe in pregnancy such as buprenorphine (Subutex) or methadone, when given to those who are pregnant can help them maintain sobriety and reduce complications during and after pregnancy. These drugs can help gradually reduce dependence on opioids and heroin in a way that is safe for the pregnant person and the baby.
Resources