Trauma Informed Care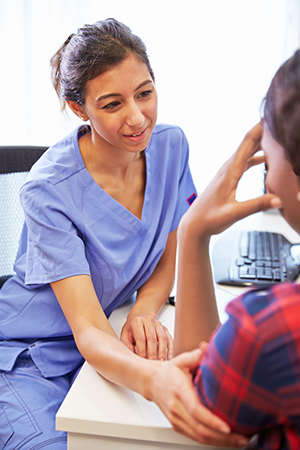 Many American Indian/Alaska Native (AI/AN) communities experience, cope with, and attempt to recover from the effects of trauma. Data shows that AI/AN people in the United States are at greater risk compared to other groups of experiencing physical, psychological, cultural and emotional traumas that may result in negative health outcomes. Causes of trauma include individual experiences of violence, personal losses (suicide, accidents, unintentional overdoses and substance use) and ongoing experiences with poverty and discrimination, in addition to health disparities.
Many AI/AN people also cope with past traumas, including historical losses of land, culture, language and people. Though these traumatic events occurred years or even decades ago, they impact the current functioning and well-being of people and their families. These cross-generational effects are known as historical trauma. Often, AI/AN people experience both personal and historical trauma.
Trauma Informed Care, a system-wide framework, facilitates recovery by creating better understanding, recognition and response to the effects of trauma. It emphasizes a holistic approach that encompasses physical, psychological, cultural, and emotional safety for everyone, including patients, staff, providers, and communities. By using trauma informed approaches, providers can offer resources, support and healing for those who suffer.
The Indian Health Service offers training and resources on the impacts of trauma to foster a more compassionate and supportive health care community.