The Indian Health Service continues to work closely with our tribal partners to coordinate a comprehensive public health response to COVID-19. Read the latest info.
Santa Rosa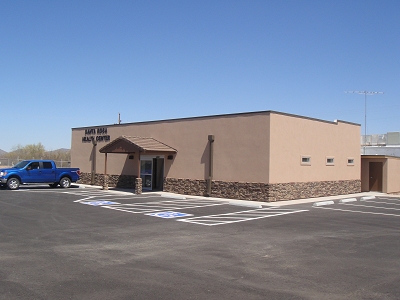 Built in 1959, the Santa Rosa Health Center (SRHC) is located 30 miles northwest of Sells Hospital in Gu Achi District off of Arizona State Route 15. SRHC has the smallest staff of all the Tohono O'odham Nation's healthcare facilities and SRHC completed a major addition in 2011. The Dental and Optometry Clinic was constructed in front of the existing clinic and added 2,376 square feet of space to provide additional healthcare services. The clinic now has five outpatient exam rooms, three dental chairs, and an optometry exam room.
The Santa Rosa Health Center provides outpatient primary care to Tohono O'odham members and other eligible American Indians.
STATS (Estimates)
Outpatient Care Visits - 13,000
User Pop - 2,000
Employees - 12
Clinical Services Available
Dental (pending)
Immunization
Mammography
Nutrition Counseling
Optometry
Pediatrics (includes Teens)
Pharmacy
Podiatry
Primary Care Services (Prevention, Chronic Conditions, Prenatal, Well Child Care, Women's Health)
Shoe Clinic
Social Work
Same Day Appointments
Hours of Operation:
Clinic Hours are M, T, Th, F 8am-5pm & W 1pm-5pm
Patient Care Services
Phone: 520-361-2261/2403
Phone: 520-383-3570/3571
Pharmacy
Phone: 877-606-9301 (toll free prescription refill line - need patient chart # and prescription #)
Mailing Address
Santa Rosa Health Center
HC01, Box 8700
Sells, AZ 85634
520-361-2261