Forensic Healthcare

Forensic Health Care in Indian Country Report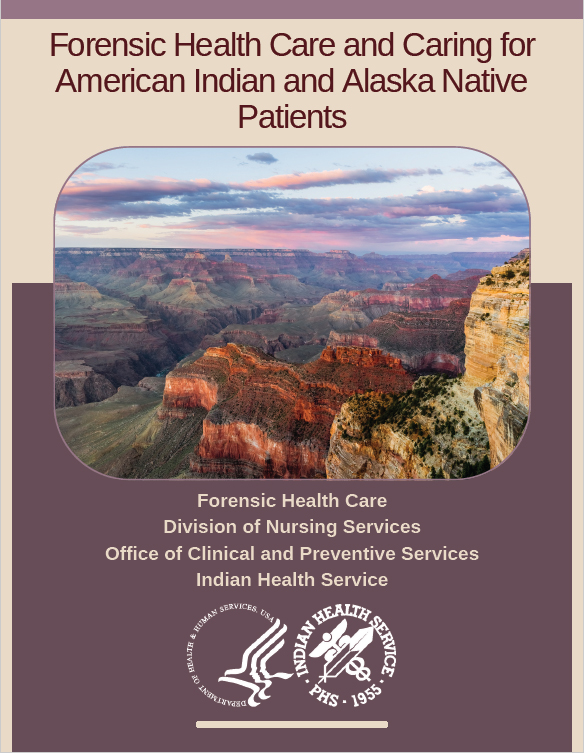 The Forensic Health Care and Caring for American Indian and Alaska Native Patients [PDF - 9.4 MB] guidebook was created to enhance care delivery to American Indian and Alaska Native patients, families, and communities affected by violence by providing resources and support to forensic healthcare providers serving in Indian Health Service (IHS), Tribal, and Urban Indian (I/T/U) settings. As this guidebook references medical forensic examination best practices, please follow your facility's policies, procedures, and protocols.
Individuals who have experienced violent crimes such as sexual assault, abuse, intimate partner violence, domestic violence, or other victimizations deserve competent and compassionate care from health professionals who are trained to provide medical forensic care and treatment. Forensic healthcare providers are typically registered nurses, but are also advanced practice nurses (e.g., Sexual Assault Nurse Examiner, Sexual Assault Examiner, Forensic Nurse Examiner - SANE/SAE/FNE), physicians, and physician assistants. They provide medical treatment and evaluation, have a specialized knowledge in injury identification, collect evidence, and provide testimony in a court of law to assist with prosecution of individuals who commit acts of abuse.
The IHS forensic healthcare program was established in 2011 to address sexual violence, and has expanded to include intimate partner violence, child maltreatment, and elder abuse. The program trains providers in forensic medical examinations, evidence collection techniques, and in coordinated community response to address violence.
Related Topics