HIV/AIDS Statistics
AI/AN and HIV Data Update
View the HIV and American Indians and Alaska Natives fact sheet Exit Disclaimer: You Are Leaving www.ihs.gov
HIV is a public health issue among American Indian and Alaska Native (AI/AN) people, who represent about 1.7% of the US population. Compared with other racial/ethnic groups, AI/AN ranked fifth in estimated rates of HIV infection diagnoses in 2016*, with lower rates than in blacks/African Americans, Hispanics/Latinos, Native Hawaiians/Other Pacific Islanders, and people reporting multiple races, but higher rates than in Asians and whites.
New HIV Infections
Overall, the effect of HIV infection on AI/AN is proportional to their US population size. However, within the overall statistics of new HIV infections and diagnoses, certain measures are disproportionate in this population group relative to other races/ethnicities.
HIV and AIDS Diagnoses and Deaths
From 2012 to 2016, HIV diagnoses increased 34% among AI/AN overall and increased 58% among AI/AN gay and bisexual men.
AI/AN men accounted for 81% (198), and AI/AN women accounted for 18% (45) of the estimated 243 AI/AN diagnosed with HIV infection in the United States in 2016.
Of the estimated 198 HIV diagnoses among AI/AN men in 2016, most (77%, 152) were attributed to male-to-male sexual contact.
Of the estimated 45 HIV diagnoses among AI/AN women in 2016, the majority (69%, 31) were attributed to heterosexual contact.
In the U.S. in 2016, both male and female AI/AN had the highest percent of estimated diagnoses of HIV infection attributed to injection drug use, compared with all races/ethnicities. Among men, 9% (17) of new HIV diagnoses were attributed to injection drug use, and 11% (21) were attributed to both male-to-male sex and injection drug use. Among women, 31% (14) of new HIV diagnoses were attributed to injection drug use.
In 2016, an estimated 104 AI/AN were diagnosed with AIDS, a number that has remained relatively stable since 2009.
*By the end of 2016, an estimated 2,017 AI/AN with a diagnosis of HIV or AIDS had died in the United States.
HIV Diagnoses Among American Indians/Alaska Natives in the US by Transmission Category and Sex 2017 – United States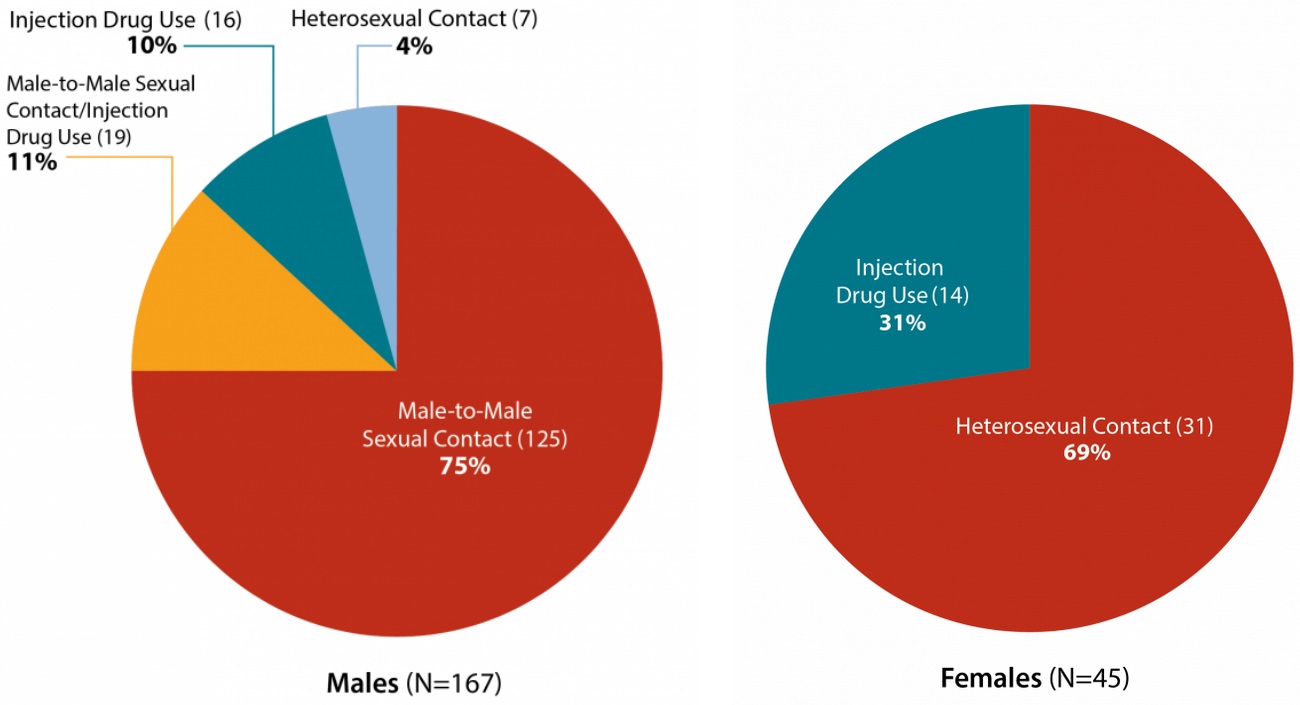 The terms male-to-male sexual contact (MSM) and male-to-male sexual contact and injection drug use (MSM/IDU) are used in CDC surveillance systems. They indicate the behaviors that transmit HIV infection, not how individuals self-identify in terms of their sexuality.
References
Graph, CDC. Refer to the "Diagnoses of HIV Infection in the United States and Dependent Areas, 2017" report [PDF - 6.1 MB] Exit Disclaimer: You Are Leaving www.ihs.gov