The Indian Health Service is working closely with our tribal partners to coordinate a comprehensive public health response to both COVID-19 and mpox.
World AIDS Day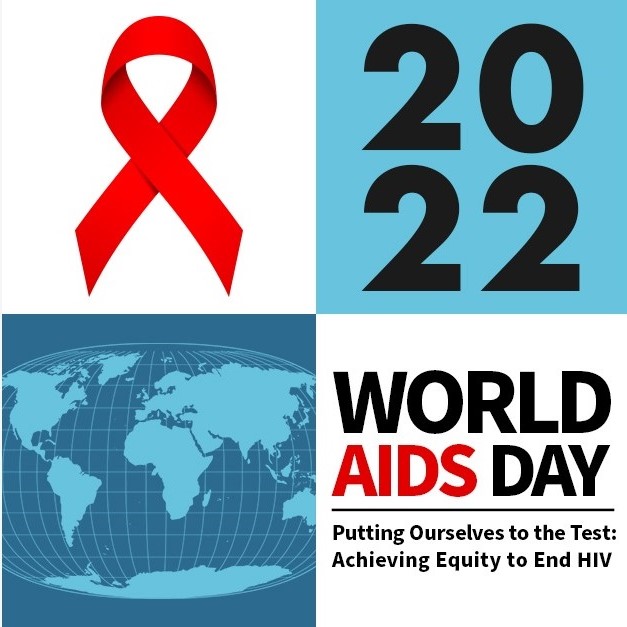 On Thursday, December 1, 2022, the global community commemorates World AIDS Day. Exit Disclaimer: You Are Leaving www.ihs.gov World AIDS Day is an opportunity for people worldwide to unite in the fight against HIV, to show support for people living with HIV, and to commemorate those who have died from an HIV-related illness. Our Indian Health Service (IHS) family encourages our tribal and urban partners to recognize this important event.
The U.S. Government theme for World AIDS Day 2022 is Putting Ourselves to the Test: Achieving Equity to End HIV. Exit Disclaimer: You Are Leaving www.ihs.gov
In recognition of World AIDS Day, the IHS National HIV/HCV/STI program is sharing news and resources about its commitment to end the HIV epidemic in Indian Country.
Indigenous HIV/STI/HCV Strategy 2022-2025
The Indigenous HIV/HCV/STI Strategy (Indigi-HAS) Exit Disclaimer: You Are Leaving www.ihs.gov guides Indigenous communities to address the co-occurring epidemics of HIV, HCV, and STIs (known as the syndemic) through culturally respectful approaches. We think of this creation as an Indigenous pathway – complementary to the national strategies – allowing Indigenous stakeholders to formulate their own response to the syndemic in their communities by incorporating local governance and Indigenous knowledge. Developed by an advisory committee in partnership with several stakeholders and with financial support from the Minority HIV/AIDS Fund,Exit Disclaimer: You Are Leaving www.ihs.gov Indigi-HAS adopts a syndemic approach, addressing HIV, HCV, and STIs in an integrated way.
Read the
full strategy
on the Indian Country ECHO site.
IHS Awards address Epidemic in Indian Country
On World AIDS Day, the Indian Health Service is bringing attention to the current HIV, HCV, and STI syndemic (two or more health conditions overlap and worsen a disease or overall health) affecting many parts of Indian Country. Earlier this year, IHS published a notice of funding opportunity to end the HIV and HCV epidemics in Indian Country, known at IHS as the ETHIC Program. As a result, seven tribal and urban Indian organizations received $1.2 million in funding to work towards reducing new HIV, HCV and STIs infections in Native communities.
Read our recent IHS blog post to learn more about the ETHIC awards and grantees.
2021 Annual HIV Data from the Centers for Disease Control and Prevention (CDC)
The CDC recently released preliminary annual HIV data for 20211 to help monitor our collective efforts to end the HIV epidemic in the U.S. Organizations can use this data to help inform HIV program planning, implementation, and evaluation.
Diagnoses – according to CDC, there were 225 new HIV diagnoses among American Indian and Alaska Native people
Linkage to care – Linkage to care – according to CDC, 81.5% of American Indian and Alaska Native people diagnosed with HIV were linked to care
To learn more about our collective national progress towards ending the HIV epidemic in the U.S., visit America's HIV Epidemic Analysis Dashboard. Exit Disclaimer: You Are Leaving www.ihs.gov Due to the impact of the COVID-19 pandemic, data for 2020-2022 should be interpreted with caution.
HisStory, HerStory, TheirStory, OurStory: Storytelling as Resilience
The documented history of the HIV epidemic is rich in grassroots efforts, scientific advancements, and policy development. Yet there are untold stories of community leaders and advocates from American Indian, Alaska Native, and Native Hawaiian/Pacific Islander communities that are important to the traditional ways of passing on knowledge and lessons over generations. OURStory features Indigenous community members' profiles and includes intergenerational individuals identifying as long-term survivors, 50+ HIV positive, transgender, Mahu, Two-Spirit, cisgender and nonbinary. Through the tradition of storytelling, OURstory aims to (1) increase HIV knowledge and awareness about prevention, (2) promote early diagnosis, (3) increase access to treatment for HIV, (4) stimulate discussion of pre-exposure prophylaxis (PrEP) uptake for HIV prevention, (5) address stigma barriers, and (6) document and preserve stories for future generations.
Watch a video Exit Disclaimer: You Are Leaving www.ihs.gov from the OURStory video series.