iCare
iCare is a Population Management software tool that helps you efficiently manage the care of your patients. When utilized in conjunction with the IHS Electronic Health Record (EHR) tool, iCare provides a comprehensive view of patient information. The ability to create multiple panels of patients with common characteristics (e.g., age, diagnosis, community) allows you to personalize the way you view patient data. This provides staff, clinics and sites invaluable access to information, enhancing the clinical decision making experience.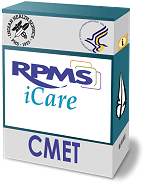 Through iCare's interface IHS has reduced the learning curve making information more easily accessible. iCare retrieves important patient information from various components of the Resource and Patient Management System (RPMS) database and brings it together under a single, user-friendly interface.
At a glance:
Graphic User Interface into RPMS patient data
Complements EHR
Custom patient panels
Facilitates provider review
Population, community, and patient perspective views
Improved management of breast, cervical, colon, liver, skeletal or STI health procedures
Who Should Use iCare?
Any provider who needs to identify a group of patients for either long-term management or simply to create a temporary list should think about using iCare. Do you fit any of the following scenarios?
I am a nurse at a facility that works closely with several primary care providers. Every day, I want to create a list of scheduled patients for the different doctors in my clinics.
I want to identify which of my patients are considered obese so I can recommend nutrition counseling.
I want to identify which patients did not keep their appointments at one of my clinics
Because providers at our clinic have performance goals related to annual GPRA clinical measures, I want to identify which of my patients are missing key clinical data.
I am one of two part-time case managers for a group of children, and I want to create a patient list that we both can use