Goals and Progress
Through discovering, learning and applying quality improvement (QI) processes, the IPC program goals are to increase QI capacity and provide technical assistance to support the implementation of the Patient Centered Medical Home (PCMH) model of care to continuously improve the health and wellness of American Indians and Alaska Natives.
IPC Program Objectives
To assist Indian health facilities in:
Discovering the benefits of learning and applying QI science and IPC QI initiatives.
Learning the Model for Improvement, data-driven improvement, evidence-based medical care, process improvements and innovations and team-based care principles.
Applying QI concepts for transformational change into Patient Centered Medical Homes (PCMHs).
IPC Program Strategies
Promote PCMH recognition and designation through national communication mediums.
Provide the technical assistance, training and support needed by IHS ambulatory care facilities to achieve PCMH recognition and designation.
Build capacity in QI skills to develop high-performing, innovative health care teams to improve the quality of care and access to care.
Promote or support the application (and effectiveness) of QI skills in health care settings beyond ambulatory care.
IPC led the charge to apply QI concepts for transformational change into PCMH recognition. In the 10 years since the IPC Program was launched, significant QI milestones have been reached, particularly over the last year.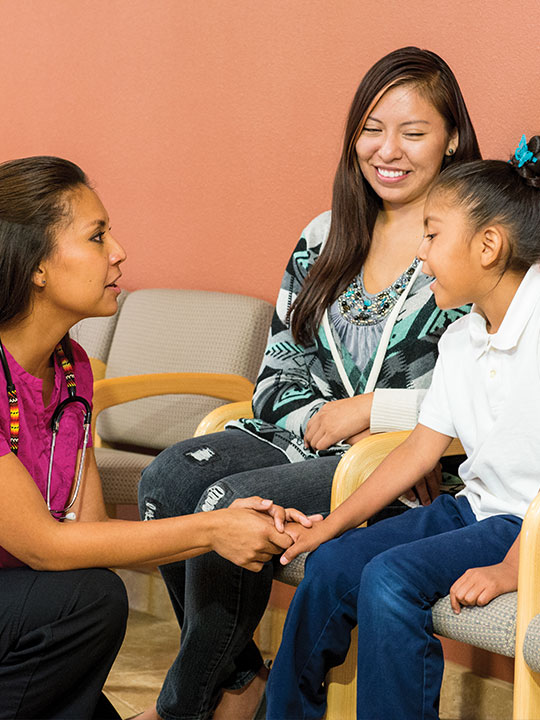 Progress Continues Toward PCMH Implementation
A Special General Memorandum requiring PCMH designation for IHS ambulatory care facilities by 2021 was signed and became effective on May 1, 2017. Congratulations to the all the facilities that have obtained PCMH designation already. IPC has developed outreach and QI strategies to promote the PCMH model of care to support facilities' journeys toward PCMH recognition.
Care teams in nine of the 12 IHS Areas completed on-site IPC—MS curriculum trainings through the IPC program from 2015–2017. More than 400 clinicians and staff attended.
IPC provided 1,000 subscriptions to the Institute for Healthcare Improvement (IHI) Open School to support I/T/U facility staff in their QI efforts. More than 400 staff members have enrolled.
Area Quality Managers (AQMs) — previously known as the Improvement Support Team (IST) — completed a 12-week IHI coaching program.
IPC awarded a contract for QI training and technical assistance for PCMH implementation and designation.
A new Quality Portal has been created to provide a collaborative learning environment to support QI and PCMH education and resource sharing.
The IPC Program develops, publishes and disseminates three quarterly eNewsletters: Elements for IHS staff and Insights eNewsletter for I/T/U facility leadership. Snapshots of Hospital Quality focuses on QI support and creating a culture of quality at hospitals, Critical Access Hospitals and nonhospital-based Emergency Departments (EDs).
Key QI personnel from I/T/U facilities across the 12 Areas met with IPC program staff to engage in successful focus groups at IHS Headquarters.
IPC leadership approved a set of 21 measures developed by the IPC Measures Workgroup to support the tracking of progress toward adoption of the PCMH model of care.
IPC collaborated with the National Data Warehouse (NDW) to create and maintain a reporting system for the PCMH measures set for system-level reporting.
Measures
Measurement is a critical part of testing and implementing change; measures tell a team whether the changes they are making actually lead to improvement. Measurement for process improvement involves many sequential, observable tests. Conducting small tests of observable changes helps accelerate the rate of improvement.
As our national health care system shifts from fee-for-service to value-based care, it is increasingly important to be able to document the quality of care and track improvements. The Centers for Medicare & Medicaid Services (CMS) uses quality measures as tools to help quantify health care processes, outcomes, patient perceptions and organizational systems that are associated with the ability to provide high-quality health care or that relate to goals of providing effective, safe, efficient, patient-centered, equitable and timely care.
The IPC program worked with IHS officials to designate 21 Improving Patient Care Medical Home (PCMH) measures to track and assess the level of care in all IHS facilities. The measures will help document ongoing improvements as facilities achieve PCMH standards, now required by all ambulatory care facilities by Dec. 31, 2021.